A recently retired Magician/Ventriloquist, I have some really good magical effects that need a good home.
I could be sentimental and keep them to reminisce, but that would be selfish of me, when they could be utilized for the enjoyment of others.
Browse through, and see if there's anything of interest to you.
Alternatively, you can visit our eBay Store.
http://stores.ebay.com.au/CRAFT-MAGIC-AND-SURPRISES
The Changing Spots

Two silk hankerchiefs are placed in a spot-covered canister (previously shown empty).
One is plain white, the other plain black.
With a pass of the hand, the magician causes the spots to vanish from the canister.
The silks are now found to be covered in alternate-coloured spots - white on black, and black on white.
The silks may be examined after the event.
This effect is appreciated by all audiences, regardless of their age.
Measures:
Silks - 27cm. square
Canister - (h:) 13cm. (dia:) 10.5cm.
Very good condition.
Vintage Magic Trick 1940 - Cat and Dogs

The magical story of a cat being pursued by two dogs.
These cat and dog cards are a pleasant reminder of magic tricks from the 1940's.
The cat appears to be threatened by one dog, when surprisingly, it changes places with the second
dog and escapes cunningly.
VIEW PRESENTATION OF THIS ITEM: http://www.youtube.com/watch?v=CRyTkZbWZoA
A colourful effect for children.
Popular in the 1940's. Revive it and stand out from your competition.
---
The Rabbit Silk

A plain white silk hankerchief is placed inside a bag, shown to be empty.
At a given time, the magician removes the silk to show that a rabbit has appeared, in black outline.
Wishing for a little colour, the magician then has audience members select named colours from a clear envelope.
Placing the rabbit silk back into the bag, it now changes into a gigantic coloured replica of the same rabbit that went inside.
The colours match those selected by the audience.
You'll get a "Wow" from the littlle ones, and a "How?" from the adults.
Includes a near-new double change bag - which, by itself, is found elsewhere for the total price stated here.
Also includes clear 'force' envelope, named colour tags, three silks (one extra large), colour stand for tags and free postage.
An absolute bargain.
Measurements:
Double Change Bag - 35cm. deep. Opening 13cm. across.
Large Silk - 84cm. square
Small Silks - 39cm. square
Colour Stand - (h:) 15cm. (w:) 10cm. Opens to 11cm.
Force Envelope - (l:) 31cm. (w:) 22cm.
All in very good condition.
---
Six Dollar Repeat

The Six Dollar Repeat - This vintage effect was popular in the 1940's. Still workable, and baffling to many.
Magician visibly and precisely counts out six one dollar notes.
He then discards three notes, and counts again. He still has six!
This is repeated a number of times, until he becomes confident there will still be six.
Sadly, this time, there are only three.
VIEW PERFORMANCE OF ITEM: http://www.youtube.com/watch?v=e3CfOOOd_tc&feature=g-upl
A nice effect that will amuse and bewilder.
---
The Patriotic Silks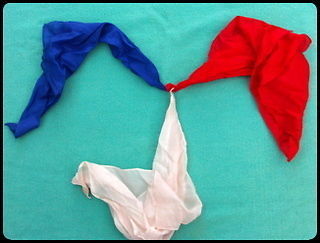 The Patriotic Silks are so named because many countries adopt the colours of red, white and blue for their flag.
Three coloured silk hankerchiefs are shown.
They are tied together at one corner, making the shape of a triangle (see photo).
With the passing of a hand, the magician causes them to become one single line.
But wait..the blue is in the middle.
The order should be red, white and blue, not red, blue and white.
Another pass of the hand, and the order changes, right before their eyes.
Measures:
Each silk: 36cm. square.
An intriguing piece, done swiftly with an astounding effect.
Very good condition.
---
Ghost Tube - Magician's Standard Prop.

The Ghost Tube is a standard item for most magicians.

A tube is shown to be empty. Each end is sealed with a tissue or similar.

At the right moment, the magician pierces one end of the tube, and produces a clutch of silk hankerchiefs.

Very visual, and quite stunning.
---
The Coloured Pom-Poms

A lovely colourful effect with four pom poms on a stick.

Each pom pom is pulled in turn, and it appears that all four are joined together.

As one is pulled, one of the other three is affected.

Yet, when the magician pulls the stick apart, it is seen that they're not joined after all.

Then, how did they move?

A real puzzle.

Length: 44cm. (Stage size)

Second-hand, but is still in fine working order.
---
Product title

Produce a dove, a chick, sweets, a birthday cake, in fact anything of a similar size.

Show it empty, place the lid on the pan and in an instant you have produced the item/s.

Easy to use. Made of aluminium.

Diameter: 16cm.

Instructions are included. Also, free after-sales advice is available if needed.
---
The Break-Away Wand - Comedy Effect

The Break-away Wand is a popular addition to a magician's program.

It's a nice distraction, causing much hilarity.

The magician can handle the wand in a very normal way.

However, when handed to a helper, the wand collapses and simply won't behave.

Repeat two or three times for a good effect.
---
The Magic Flower Stem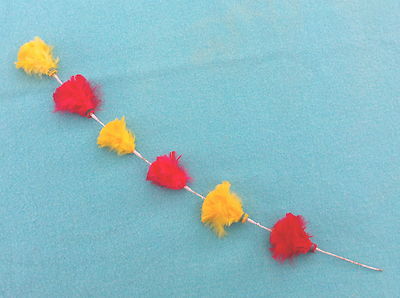 The Magic Flower Stem is both colourful and mystical.
A stem of flowers is shown, with yellow and red buds alternating along the branch.
With a pass of the magician's hand, the blooms change colour one by one, until eventually
the stem holds six different coloured buds.
Amazing!
Measurements:
Stem - 55cm. Flowers - h: 6cm w: 6cm.
Weight: 6gm.