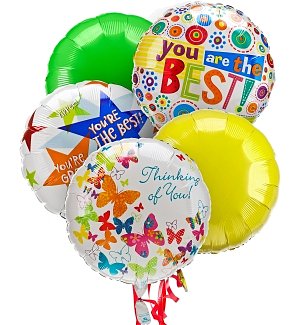 Mylar balloons are a modern-day variation on the classic blow-up balloon. They are great for all types of events including, birthday, Christmas, valentines and Halloween parties. They are the perfect accompaniment to a celebratory situation, along with being a form of decoration that is both fun and vibrant.
Mylar balloons of all kinds are a regular feature in both auction and buy it now style listings on eBay. In turn, eBay's deals on all types of party peripherals and novelties are well worth looking at.
Size
Mylar balloons are like any other type of balloon, in the sense that they come in a wide variety of sizes. Shoppers are sure to come across Mylar balloons that range from 4" to 50" in diameter. The most common size is 18" and such is also the minimum size for helium inflation, as anything below this is only suitable for air inflation.
Before buying make sure that the size is appropriate for the setting, and can be used by the inflating apparatus available.
Inflation
In most instances, users will need to buy a helium inflator to go alongside a set of Mylar balloons. Take the time to look at the instructions that come attached to the balloons, to see which inflators are supported.
Always use the correct inflator and never use one that isn't suitable, this is especially important in the case of latex inflators. Where they pump at a higher pressure, a Mylar balloon is at high risk of bursting, potentially harming both the inflator and the person using it.
Self-Sealing or Non-Self-Sealing
All 18" or larger Mylar balloons are meant for helium inflation only. Balloons of this type that have been released in the last fifteen years should be self-sealing. Balloons that are small in size and are air inflated tend to be non-self-sealing.
Non-Self-Sealing
Any Mylar balloons that are 18" or more in size and are non-self-sealing tend to be older stock, so buyers should shop with caution in such circumstances. Mylar has the tendency to deteriorate over time, so seeing a Mylar balloon that is non-self-sealing provides a good indication of its age. However, if it was stored correctly in low humidity conditions it may still be in working order.
A non-self-sealing balloon can only be sealed by a specially designed heat sealer. This method will keep a Mylar balloon floating for up to thirty days. Other methods to seal a non-self-sealing balloon include built in ties and material ties, but these methods don't offer much in terms of lift retention.
Self-Sealing
Self-sealing balloons take the hassle out of preparing a balloon for use. Once inflated they will retain lift for approximately ten days, but that time frame doesn't spell the end for a self-sealing Mylar balloon. They can have helium added to them over the course of its lifespan, meaning that theoretically one can float for an indefinite amount of time. They can even be deflated using a small tube, which makes it possible for Mylar balloons to be reused in the future.
When deflating a self-sealing balloon, be sure to do it gently, in order to make sure that the balloons inner lining isn't perforated. If this does occur the balloon cannot be used again.
Customisation
People often want customized balloons that are tailored to a certain occasion or celebration. Thankfully, eBay has become home to many creative sellers and more importantly many custom order services. Speak to sellers, as there is every chance that shoppers can get a Mylar balloon tailored to every want, need, whim and specification that they require.
High Altitudes
Mylar balloons, although technically advanced for a balloon, do not accommodate to high altitudes well. They have been known to drift at altitudes above 6,000ft and become uncontrollable at 10,000ft. If users are planning on using balloons in high elevation environments (such as on a plane), a Mylar balloon over 22" in size should be the only type considered suitable. It is also advised that those holding a Mylar balloon do not release it into the air, in order to make sure that it doesn't reach such heights.
Buying Used
Thanks to the advent of self-sealing balloons and their easy deflation mechanism, Mylar balloons can be constantly reused. It is no surprise to see a wide variety of used Mylar balloons on eBay. When choosing to buy used Mylar balloons it is important to remember that once deflated the actual design of the balloon can weaken over time. This has no actual effect on the floating ability of the balloon, but does mean that shoppers need to be more observant when looking to buy via this method.
One way to get a better grasp on a Mylar balloon's condition is to speak to the seller prior to purchase. Try asking the following questions:
· When was the Mylar balloon deflated?
· When was the Mylar balloon last used?
· Is the design of the Mylar balloon intact?
· How old is the Mylar balloon?
· Is the Mylar balloon self-sealing or non-self-sealing?
· Do you offer a guarantee or returns service?
Disposal
When buying a Mylar balloon, shoppers should have one eye on what to do with it once used. There are actually several minor legal issues surrounding Mylar balloons, as releasing them to float away is illegal. This is due to their ability to conduct electricity, and the damage they can do to power lines, should they come in contact with one. When someone no longer has any use for a Mylar balloon, it should be sold-on as a second-hand unit or disposed of via general waste disposal.
How to Buy Mylar Balloons on eBay
Mylar balloons grab people's attention, and their appearance can make or break a party's décor. To start looking at the sizes and styles of Mylar balloon currently available, select the home and garden category when on eBay's homepage. Then select parties, occasions and balloons, decorations from the choice of sub-categories, and start browsing what has been listed for sale.
If shoppers want to locate a Mylar balloon to suit a specific type of celebration, they should try using the keyword and advanced search tools. Type in something relevant (for example, "Birthday Mylar Balloon") and click search, this will bring up a list of relevant auctions. To get more information on how to use eBay's search tools efficiently, head over to the finding items page.
Pay for any and all Mylar balloons with PayPal to make sure that the buyer protection program covers the order. Shoppers should take the time to learn about how eBay and PayPal work together to protect members, by taking a look at the security centre.
Conclusion
Balloons are the most recognisable form of party decoration, having been used for over a hundred years. When it comes to finding a long lasting balloon that can adapt to all environments, Mylar should be considered the premier option. They have a hang time that is unrivalled by common latex and foil balloons, and come in sizes up to 50". Simply put, when balloons are needed for a party occasion, people can't go far wrong by using a set of Mylar balloons.
eBay is one of the top retailers in party supplies, which means that they are sure to have Mylar balloons that cater for all budgets.