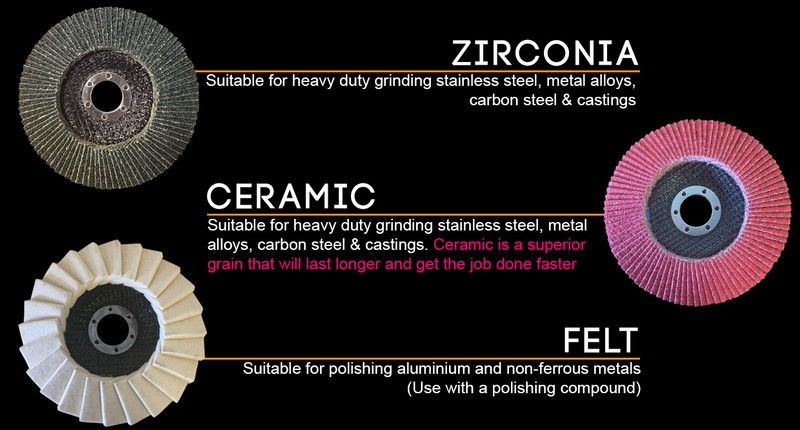 NEW Pilatus FELT Flap Disc Range
Suitable for polishing aluminium and non-ferrous metals
(Use with a polishing compound)
We sell these in just the 5 Inch (125mm) at the moment. They have a 22mm bore. You would use these with a compound and we have listing with each compound in our store.
The most popular compounds used are:
GREEN ROUGE
BLUE HUBBLE
HYPERFIN
CLICK HERE TO SHOP NOW


If you're unsure as to which compound to use, please check the listings, they explain each compound and it's intended finish.
PILATUS ABRASIVES FLAP DISC - 125MM FELT - Suitable for polishing aluminium and non-ferrous metals (Use with a polishing compound)
PILATUS ABRASIVES FLAP DISC - 125MM FELT - Suitable for polishing aluminium and non-ferrous metals (Use with a polishing compound)
PILATUS ABRASIVES FLAP DISC - 125MM FELT - Suitable for polishing aluminium and non-ferrous metals (Use with a polishing compound)
PILATUS ABRASIVES FLAP DISC - 125MM FELT - Suitable for polishing aluminium and non-ferrous metals (Use with a polishing compound)
PILATUS ABRASIVES FLAP DISC - 125MM FELT - Suitable for polishing aluminium and non-ferrous metals (Use with a polishing compound)
PILATUS ABRASIVES FLAP DISC - 125MM FELT - Suitable for polishing aluminium and non-ferrous metals (Use with a polishing compound)
PILATUS ABRASIVES FLAP DISC - 125MM FELT - Suitable for polishing aluminium and non-ferrous metals (Use with a polishing compound)