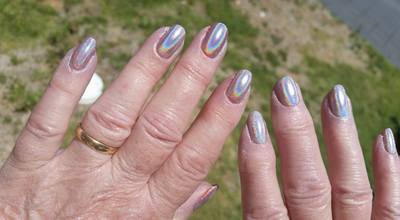 Nail supplies
When your looking for any sort of nail supplies on eBay for example;

Chrome, Holographic, Rainbow, Unicorn, Colour change powders.
Make sure the seller has actually had experience with the product, has used and demonstrated that they have tested this product.
Otherwise like so many buyers that purchase the cheapest product and end up only getting glitter where you cannot see any effect the description of the powder said you would get.
Always read Description and follow these points.
1. explains the benefits of this product.
2. Seller must be able to Identify a problem the customer may have.
3. The seller can tell there own story of how the product has benefitted them.
4. check out there photos to see if they are originals or copied from google.
5. check there feedback and find out what customers have said about quality of the powders.
Australian market: is more expensive "yes" but you get your order within 2-3weeks and Australia post offers a lot of guarantees with there posting.
International Market: is Cheaper "yes" but you can be waiting for your order up to 5 - 8weeks depends, and you can never know the guarantees on weather your product will arrive intact.
Hope this helps you in purchasing your next powdered nail item.
Thanks, Selllounge
www.ebay.com.au/usr/darleaashb0
store: Selllounge1