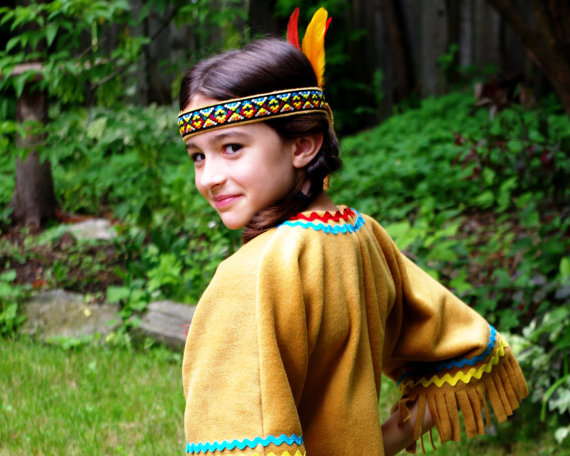 A Native American costume is a great outfit for a wide variety of fancy dress parties, ranging from Halloween to a Wild West themed shindig. A Native American costume even works for famous people parties, in which case the attendee can opt for a Pocahontas or Sitting Bull costume. Native American costumes are appropriate for party-goers of any age. eBay and fancy dress shops have a wide selection of ready-made Native American costumes, costume kits, and accessories, along with everything customers need to craft their own unique costumes. Shoppers can choose either brand new or gently used Native American costumes or costume supplies in a variety of materials and sizes at very competitive prices.
Native American Costumes for Males
Whatever their age, most men and boys have dreamed of being a fierce Native American brave or a wise tribal chief. It is easy for one to achieve the authentic look with the right costume. For both men and boys, complete, ready-made costumes are available or, for a more personal touch, users can make their own.
Costume Clothing
A chief or brave costumes for men and boys consists of tan or fawn coloured pants and a long-sleeved shirt or a vest of the same colour. Such clothing usually comes with frills down the sleeves, around the bottom of the top, around the shoulders, and around the cuffs of the shirt and pants. For the more traditional look, the shirt should be further embellished with beadwork, fabric paint, or embroidery in the form of geometric shapes such as diamonds or repeating squares.
Costume Footwear
Native American costume footwear consists of tan coloured moccasins or soft, tan ankle boots. The footwear traditionally has a small amount of fringing. Geometric beadwork or embroidery is also a common.
Costume Accessories
One decorates a Native American brave costume with a headband that has one or two feathers protruding from it. A chief costume requires a heavily feathered headdress. A chief's headdress has lots of large feathers that cover the headband down to the shoulders. A tomahawk or a short bow with a quiver of arrows helps to complete the look. A long black wig should be worn. The partygoer can go with the wig parted and braided or he can choose to leave the wig long and loose, with the hair held back by the headband or headdress.
Costume Makeup
A male Native American costume does not absolutely require any makeup, however, a partygoer can use face paint as war paint for the face and chest. War paint can be as simple as two red or white stripes on each side of the face.
Native American Costumes for Females
Native American costumes for females most commonly take the form of a Native American squaw. For a woman with a baby, consider adding a papoose to the outfit and dressing up the baby as well. Native American costumes for women and girls are available ready-made but partygoers can make up costumes with a few basic supplies to create unique looks on a budget.
Costume Clothing
For a female Native American costume, one requires a tunic. A female partygoer can also use a dress or a t-shirt and a skirt. Shoppers can craft their own tunic from tan or cream suede to mimic buckskin by cutting two piece of suede fabric into a t-shape. The tunic should reach mid-thigh. Remember to cut a rounded neck into the front piece of fabric. Add fringing to the neck, hem, and sleeves for the most authentic look. Beading is added to the fringing by simply threading beads onto some of the fringing and knotting the end to prevent the beads slipping off. Add detail to the dress by creating geometric designs and traditional Native American pictograms using embroidery or fabric pens.
Costume Footwear
Footwear to accompany the Native American female costume consists of moccasins or sandals. Moccasins should be tan or cream coloured and have fringing on the front and also around the sides. Sandals can be simple flip-flops,toe-bar sandals, or gladiator sandals with or without fringing and beading.
Costume Accessories
There are a variety of accessories to choose from when creating an authentic costume. A long black wig tied into pigtails or banded bunches gives a traditional look. A headband for a female costume is made from a band of suede, tied around the head with one or two feathers attached. One can further embellish the headband with beading or embroidery. Purchase a simple beaded necklace or make one from a piece of leather and some wooden or bone beads. A women can add a papoose to her outfit. Papooses allowed Native American women to carry their babies safely and securely on their backs. The papoose holds the baby on the mother's back and is secured at the front of the body. This is an excellent way of involving an infant in a fancy dress party. The mother can dress the child as a Native American baby for added authenticity.
How to Buy
Use the search bar located on every eBay page to find your costume or costume accessory quickly and easily. To refine the search results even further, use the filters to narrow your search by price, size, and item condition. Also browse for Native American costumes on the eBay deals page. Check the feedback of the seller before confirming your purchase to make sure you buy from a reputable seller that provides good service and quality products. Prepare to do battle as a tough Native American brave, bring peace to the land as a wise old chief, or dress as a squaw. Whichever costume you choose, make sure you use all of the necessary accessories to get the most authentic look.