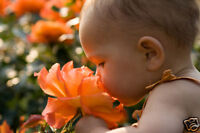 Raising Your Baby the Natural Way
Babies are such a blessing and this is why we as parents are responsible for keeping our babies and children happy and healthy.
There are many products on the market today for babies and sadly a lot of these are doing our babies and children more harm than good. There are products filled with nasty chemicals such as phthalates, BPA and SLS to name a few. These can be responsible for a range of problems that babies and young children can get from ADHD, asthma, eczema, behavioural problem and childhood cancers.
If you do your research you will find there are a lot more products these days that are a much better option, more natural and safe. Yes they may be a bit more expensive, but at the end of the day, if your child has any of the above problems that can be associated with these nasty chemicals, you will end up spending a lot more time and money trying to fix these issues!
Some of the baby products that are now more natural and even sometimes certified organic include organic baby food, dummies, baby bath and body products, baby slings, teething accessories, cot sheets, toys etc etc.
Start today to make a step towards a more natural way of raising your baby and you will see the benefits this way of parenting has to offer!
Click Here to Order Natural Baby Products