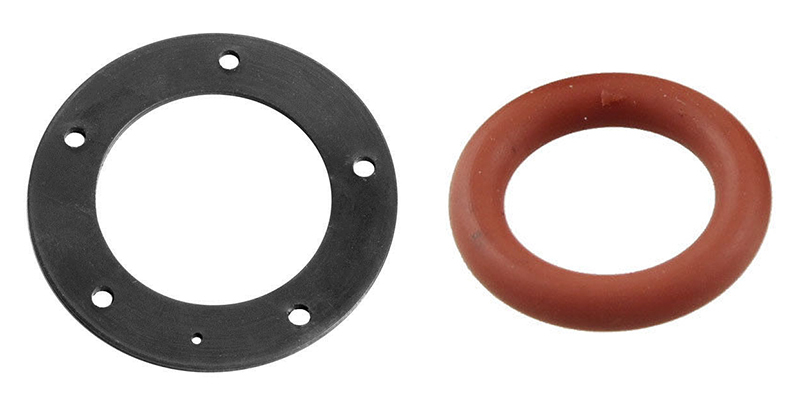 Gaskets protect machinery and equipment from harsh weather conditions by keeping out water, dirt, dust, and other debris. In order to be effective, gaskets must be durable, flexible, and versatile. Neoprene and silicone are both popular materials used to make gaskets because of these characteristics. Deciding which type of gasket to purchase can be hard without further evaluation. When shopping for replacement gaskets, shoppers should evaluate the properties of each type as well as weigh the pros and cons to make a purchasing decision.
About neoprene gaskets
Neoprene is a type of synthetic rubber produced from the polymerisation of the compound chloroprene. It has been widely used for over 75 years. One of the most common uses for neoprene is in wetsuits; however, it has several industrial and automotive applications as well. In the automotive industry, neoprene is present in both under-body and under-the-hood gaskets. Neoprene gaskets are durable and versatile. The material has good chemical stability and very few limitations.
About silicone gaskets
Silicone is a synthetic polymer that is part of the rubber family. Silicone gaskets come in three types: solid, sponge, and foam. This makes the compound extremely versatile for a variety of industrial and automotive applications. It is stable, resilient, and does not react with many substances, rendering it generally inert. Silicone is a top choice for gaskets because of its ability to form a tight seal and repel water. Its tensile strength and ability to withstand extreme temperatures make it superior to other types of rubber.
Compare neoprene and silicone gaskets
Neoprene and silicone have similar characteristics and uses, but they are not exactly the same. When deciding which gaskets to purchase, shoppers should compare the characteristics of each type of gasket as well as weigh their advantages and disadvantages. Some of the top characteristics to consider are the resistance to corrosion, flexibility, and the ability to perform under extreme temperature changes.
Resistance to corrosion
Both neoprene and silicone are durable and withstand several substances without corroding. Both materials are waterproof and do not break down when exposed to moisture. Silicone resists UV light, ozone, oxidation, and petroleum-based substances. Neoprene resists oil, grease, and many chemical solvents; however, petroleum-based fuels can easily damage neoprene. Silicone offers a slight advantage over neoprene in terms of resistance to corrosion.
Flexibility and durability
Flexibility is an important characteristic to ensure the gasket forms a tight seal. The gaskets can move with the other components of the engine or machine and maintain their integrity. Both materials are strong and durable. They do not shrink from changes in environmental conditions or repeated use. However, silicone does not offer a high amount of abrasion resistance or work for applications where it is susceptible to tears and cuts.
Performance in extreme temperatures
Engines and other machinery typically produce a large amount of heat. Additionally, any equipment that is outdoors is vulnerable to extreme temperature and environmental changes. The operating range for neoprene is from -34 Celsius to 100 Celsius. The operating range for silicone is from -100 Celsius to 250 Celsius. Silicone offers higher resistance to extreme temperature changes. It does not freeze or crack at high or low temperatures. Neoprene generally maintains its flexibility in most conditions.
Cost
The final consideration for choosing neoprene or silicone is cost. Neoprene contains a moderate price in comparison to silicone. However, it is a moderate performer in comparison to silicone as well. While neoprene is widely used for industrial applications, it does not offer the same versatility that silicone does. Shoppers should weigh their needs to determine if higher-performing silicone is worth the investment.
Choosing between neoprene and silicone
When it comes to choosing between neoprene and silicone, shoppers should evaluate their needs. Because of their differences, neither material is better than the other overall; however, one may be better suited than the other in certain applications. Silicone is the superior choice for applications that are subject to extreme temperature changes. Neoprene is the top choice for applications that require oil-resistant and tear-resistant properties. Both are solid choices for automotive and industrial applications because of their flexibility and durability.
How to buy gaskets on eBay
Shop for neoprene and silicone gaskets from the large selection available on eBay. Use the search bar found on any page to perform a keyword search. You can even specify a price range to find the gaskets that fit within your budget. Carefully review the item descriptions, view photos, and evaluate seller feedback ratings to help you make a purchasing decision. Evaluating the benefits and drawbacks of neoprene and silicone gaskets can help you to choose the best type for your needs.