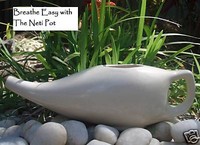 Jala Neti Pot
This guide is all about the fantastic Neti Pot! This is an ancient Ayurvedic device that has been around for thousands of years. It is a small pot with a spout that you fill with warm salted water, that is designed to clean out the nasal pasages when you have a cold, allergies, sinus or hayfever. It is a natural way to heal these ailments. Many people who practise yoga also use this device, as it helps to centre them before meditation.
How to Use a Neti Pot:
1) Fill with warm water (not hold or cold).
2) Dissolve 1 level teaspoon of sea salt in the warm water.
3) Lean over the sink, tilt your head sideways and place the spout of the pot in the upper nostril.
4) Tilt the Neti Pot until the salt water solution flows through the upper nostril, through the sinus and out the other nostril. Be sure to keep your mouth open to breathe.
5) When the Neti Pot is empty, lean over the sink and exhale through your nose, like you're blowing your nose.
6) Repeat with the other nostril.
I hope you have found this guide helpful and once you try out this ancient device - you will never look back!