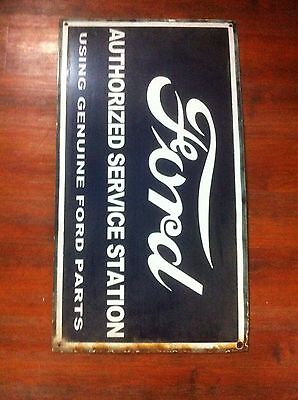 HOW TO IDENTIFY A REPRODUCTION ENAMEL SIGN

Just a lil intro to me before you go through my Guide :

I am The First seller from India on eBay to sell any form of Advertising since 2003 & I've been Trading in Antique Collectables for over 21 years now & have attended Trade Shows in England & the US.

I'm Fortunate that my Passion is my Business as well, i Love what i do.
I have worked extremely Hard to bring a Good name to my Country & have even sold at heavy losses initially just to build a Reputation.

I am a Parsi & a Gandhian hence for me there is nothing Greater than the TRUTH.

THERE ARE A FEW TELL-TALES THAT I'D LIKE TO SHARE AS I'VE SEEN BUYER'S GET RIPPED OFF, LOSE TRUST & THEIR BEING ABLE TO JUDGE A FAKE FROM AN ORIGINAL.

ALL THIS ONLY BECAUSE OF A HANDFUL OF DISHONEST DEALERS.

MOST EBAYER'S ARE HONEST & JUST TRYING TO EARN AN HONEST LIVING.
HOWEVER THERE ARE SOME DEVIOUS & SOME MISGUIDED.

HENCE TO TRY & KEEP IT CLEAN & SAFE HERE ARE A FEW IMPORTANT TIPS :

1ST & FOREMOST "RUST STAINS THAT ARE ORANGE-RED IN COLOR".
2ND "MOUNTING HOLES & MAKER'S MARK".
3RD "REAR OF THE SIGN"
4TH "CHIPS THAT LOOK FRESH"
5TH & LAST BUT NOT LEAST "TRUST YOUR INSTINCTS".

ELABORATED BELOW :

1) RUST STAINS THAT ARE ORANGE-RED IN COLOR & NOT DARK BROWN-BLACK :

IT'S EASY MATHEMATICS, OLD SIGNS WERE MADE & USED FOR THE OUTDOORS MAINLY (EXCEPT FOR PUSH DOORS & THERMOMETERS), HENCE THERE IS BOUND TO BE A LITTLE WEAR & RUST ESPECIALLY AROUND THE BORDER & MOUNTING HOLES.
(MINT SIGNS ARE AN EXCEPTION TO THE RULE, AS THEY ARE SIGNS THAT HAVE NEVER BEEN USED).
SOME FAKES HAVE BEEN CURED TO MAKE THE RUST LOOK OLD, HOWEVER IF CLOSE ATTENTION IS PAYED TO THE CHIPPED SECTION, SOME OF THE CURING AGENT WILL SHOW A BIT ON THE CORNERING PORCELAIN.

2) NO MOUNTING HOLE, NOT AN ORIGINAL SIGN :

ALL SIGNS WERE MADE TO ADVERTISE THE PRODUCT, THE BIGGER THE BETTER.
THEY NEVER MADE SMALL PLAQUES WITH NO MOUNTING HOLES TO SIT ON THE SHELF.
ALL PUSH DOORS (MEANT FOR A PERSONALISED APPEAL INSIDE STORES) HAVE MOUNTING HOLES. THEY ARE EVEN COPYING THE BASEMARK OR MAKER'S MARK.

3RD) IT IS EASY TO TELL A NEW SIGN FROM THE REAR :

OLD SIGNS DO NOT HAVE TRACTOR MARKS, ONLY SIGNS FROM 1950's TO PRESENT USE THIS TECHNIQUE.
SIGNS FROM 1870's-1920's ALMOST ALWAYS HAVE INITIALLED SIGNATURES TO THE REAR (NUMBER) IN ENAMEL PAINT (ONE OF THE COLORS USED ON THE SIGN ITSELF).

4TH) CHIPS THAT LOOK FRESH WITH STEEL SHOWING THROUGH ARE FAKES :

ALL OLD SIGNS WERE MADE ON IRON & NOT STEEL.
OLD SIGNS HAD SEVERAL LAYERS OF PAINT BEFORE THE FINAL COAT, HENCE MOST SIGNS WHEN CHIPPED WILL STILL SHOW SOME PAINT LAYERING & OLD RUST (NOT ORANGE-RED).

PLEASE NOTE : IF THE SELLER HAS NOT SHOW THE REAR OF THE SIGN, KINDLY ASK FOR A PHOTO OF THE SAME. IF THE SELLER REFUSES TO PROVIDE THE SAME ON ANY PRETEXT, SOMETHING'S WRONG.

5TH) LAST BUT NOT LEAST, TRUST YOUR INSTINCTS :

IF YOU ARE UNSURE TAKE ADVISE, DO RESEARCH.

KINDLY REPORT A FAKE BEING SOLD AS AN "ORIGINAL" OR "AGE & ORIGIN UNKNOWN",
THEY KNOW WHAT THEY'RE SELLING & HAVE THEIR SOURCES FOR COUNTLESS FAKES (MADE TO LOOK OLD) TO FLOOD THE MARKET.

THEY ARE ALSO REPRODUCING SHELL & MOBIL SIGNS AMONGST MANY OTHERS INCLUDING FLANGE & DOUBLE SIDED SIGNS, HOWEVER THEY ALWAYS HAVE A GIVE AWAY. TAKE A CLOSE LOOK AT THE WRITING OR GRAPHICS, THEY WILL HAVE SOME ERROR OR MINOR IRREGULARITY.

THESE FAKE REPRO SIGNS SOONER OR LATER PRODUCE AN ORANGE POWDERY RUST ON THE ENAMEL SURFACE WHICH CANNOT BE CLEANED. THEY ARE NOT EVEN WORTH INVESTING IN AS REPROS AS IN TIME IT WILL JUST BE A PILE OF RUST.

PLEASE FEEL FREE TO CONTACT ME ANYTIME WITH ANY DOUBT OR QUERY YOU MAY HAVE,
I'M ALWAYS HAPPY TO HELP & DO IT FOR FREE.

HELP KEEP EBAY A FUN & SAFE PLACE TO TRADE ON.
JUST DOING MY BIT.

HAPPY EBAYING !!!

ALL THE BEST !
JUNKINJAK.