Many people will suggest avoiding Outlook Express and Internet Explorer but the reality is many people use these programs.
One simple way to check for a fake email or link to a malicious location is reading the address in the status bar as shown in the example below.
If you do not see the the status bar, you can turn it on. In Outlook Express: click on View, click on Layout, enable Status Bar.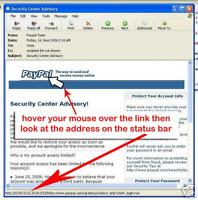 Dear eBay, please allow me to use a bigger image, you shrunk it!
I hope this tip helps you.
Also see eBay's help page regarding fake emails
Wishing you safe computing
Please note, I have no control over eBay's selection of listings associated with this page

If this page has not been helpful, please let me know why so I can change it.
(It is intended to help newbies, not the seasoned computer user).