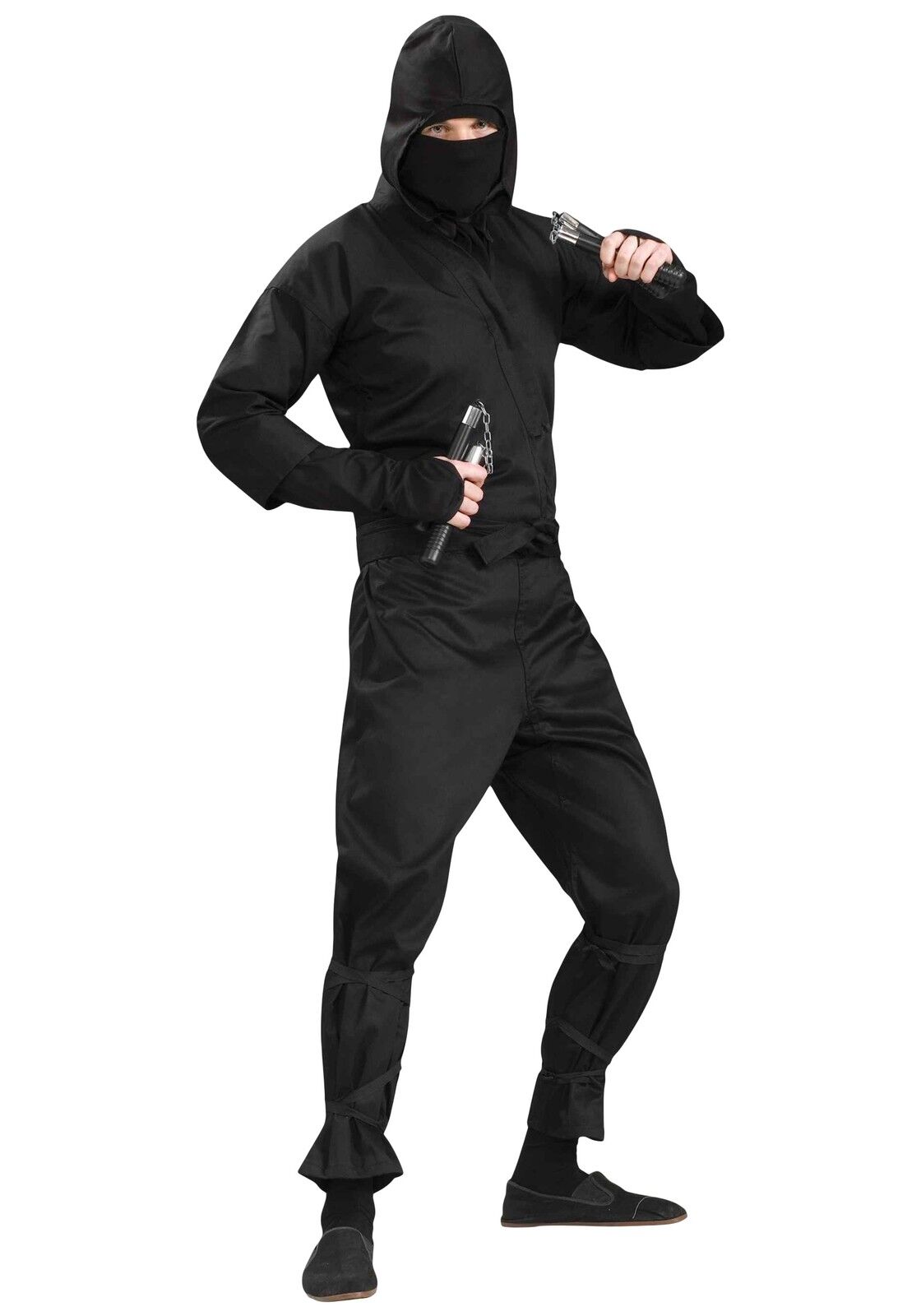 Ninja costumes find takers in men, women, and children alike, probably because of the mysteriousness that is associated with their ilk and everything associated with them. The use of ninja costumes is no longer limited to real ninjas, and a number of people look for them when it comes to attending fancy dress parties, to wear for Halloween, or simply for the pleasure of owning one.
Buying ninja costumes is not difficult; buyers can visit shops that deal in costumes and they can also look online through platforms, like eBay. In any case, it is crucial that buyers pay attention to facets like different materials and sizing, and searching through as many design alternatives as possible also helps.
The When, Where, and Why of Ninja Costumes
Real life ninjas, those who partake in espionage, sabotage, assassinations, and countermeasures, have no need for the now popular image of ninja costumes. Real ninjas, on the other hand, dress in accordance to local populace in order to blend into society. The now popular image of ninjas in black capes, hoods, and leggings is, in reality, attributed to Japanese theatre of the past. In addition to the clothes, weapons, and tools like armour, swords, staves, spikes, sharpened metal fans, and crampons have a place in the ninja arsenal. Overall, ninja clothing is not different from that of samurais, although ninjas tend to favour looser garments. When it comes to armour, both ninjas and samurais use similar concealable lightweight armours.
Ninja Costume Sizing
When buying ninja costumes, paying attention to size is crucial because different manufacturers rely on different sizing parameters, and more often than not, these costumes are not available in usual clothing sizes. Besides, men's ninja costumes, women's ninja costumes, and kids' ninja costumes all come in varied sizes. The table below helps to illustrate what a woman's ninja costume chart looks like.
| | | | |
| --- | --- | --- | --- |
| Size | Bust (cm) | Waist (cm) | Hips (cm) |
| | 85 | 65 | 90 |
| Medium (10-12) | 90 | 70 | 95 |
| Large (12-14) | 95 | 75 | 100 |
| Extra Large (14-16) | 100 | 80 | 105 |
Sizes, when it comes to women's ninja costumes, tend to start at extra small, making up for sizes 6 to 8, and can even go up to XX-large to sizes 16 to 18. Sizes for men and children are along similar lines, but are not the same. For example, buyers can find kids' ninja costumes to fit children between three to five years, five to seven years, seven to 10 years, and so on. These costumes typically take only height and waist into account.
Materials Used to Make Ninja Costumes
The making of traditional ninja costumes uses cotton, which works well when it comes to buyers looking for comfort, given that cotton is breathable and allows wearers to remain comfortable for prolonged periods. Polyester ninja costumes are among the most commonly available in the costume marketplace because this material offers comfort, durability, as well as affordability. In addition, these buyers can also find faux leather ninja costumes.
Design Alternatives
When buying ninja costumes, buyers have more to choose from than just kids', men's, or women's ninja costumes, and this choice comes in the form of a plethora of design alternatives. For example, while black ninja costumes with white, silver, or red highlights are common, buyers can find ninja costumes that are all black with accessories included. Buyers can also find red ninja costumes that come with black belts and highlights, as well as white ninja costumes that come with red accessories and highlights.
Men's Ninja Costumes
People looking for men ' s costumes have the option of buying ninja costumes designed in accordance to the methods used in the past, and these cotton ninja costumes find favour with martial art instructors and students. The top, in such designs, tends to include a secret pocket, and the trousers normally include calf and waist ties. These costumes can also include gloves, hoods, and gauntlets.
Those looking for men's ninja costumes also have the option of searching through scores of other alternatives that come into play during Halloween or costume parties. Men, for example, can find ninja costumes based on "Mortal Kombat" characters, like Scorpion and Raiden, and these costumes come with jumpsuits and attached tabards, moulded pieces of armour, attached shoulders, hoods, belts, gauntlets, and shin guards.
Women's Ninja Costumes
women's costumes can include cleavage-revealing or backless tops along with skintight leggings. They can also come in the form of short dresses. Headbands, hoods, belts, sashes, arm warmers, and face masks can come as part of standard orders. In addition, they make most women's ninja costumes from polyester, buyers can also find faux leather ninja costumes for women.
Ninja Costume Accessories
While some ninja costumes come with a number of accessories, some come with little more than the basic that may comprise of a simple hooded jumpsuit. Accessories that buyers can buy for their ninja costumes include a variety of ninja starts, headbands, nunchuks, shoes, split-toe socks, utility belts, sashes, and bokkens.
How to Buy a Ninja Costume on eBay
Buyers can find a variety of children's, men's, and women's ninja costumes when searching through fashion deals on eBay. Some eBay sellers offer deals that come with free delivery, and when shopping through top-rated sellers on eBay, buyers can expect satisfaction in the form of good customer service. In addition to buying one or two ninja outfits, those looking at buying ninja costumes in bulk can also use this platform.
Ninja costumes sold through eBay come at various prices, so setting some kind of budget ahead of time helps. Buyers looking to save some money can also find used ninja costumes on eBay, although when buying used costumes, pay attention to the costumes' condition.