I have been using the Nokia 6280 as soon as it was launched. It has got amazing features than any of my previous phones. The User friendly slide concept which give us an exclusive feel and very good key usability. The size of the phone is relatively small when compared to other new models.
First thing what appealed to me about this phone was it has got everything what I wanted in a phone like media player, Mp3 player, FM stereo player, very good 2 mega pixel camera, expandable memory, Bluetooth, video calling and video ring tones. Apart from these features it has also got audio messaging, high resolution screen, hot swap slot for expandable memory, call conferencing and voice recorder.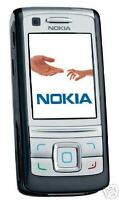 As one of the key features, using the MiniSD, the memory of the phone can be expanded up to 2GB and inbuilt 6 MB memory .With hot swap slot the expandable memory can changed or removed with out even switching off the phone. The slot has also been well positioned and designed.
With the high resolution screen the pictures are viewed at it best form. As I said earlier it has got a very good 2 Mega pixel Camera with 8x digital zoom. It has got various photo options like night mode, flash, timer and video.
Other features include Media player, MP3 player and FM radio which can be heard through hands free headset or Bluetooth Headset.
Bluetooth is one the best features available in most of the latest phones. Using Bluetooth, user can connect to any other compatible phones, computers and transfer songs, pictures and data faster. Infrared which is also available in this phone can be used to transfer data.
As a phone Nokia 6280 does everything a phone should do and has all basic features and delivers everything it promises and battery life is also good stays at least 25 to 30 hrs with good amount of call usage.
Well everything doesn't come perfect at the first time. Same goes with Nokia 6280.It had quite a few problems with the phone's software like phone freezes, screen goes blank while changing profiles and music turns off automatically. All these problems are fixed with the latest version software.
The market price for the phone is somewhere around AUD 500 for unlocked phones and locked phones to network is around AUD 450.Anything less than that is a good deal.
I highly recommend this Phone Nokia 6280 provided your buying the phone with latest software version.