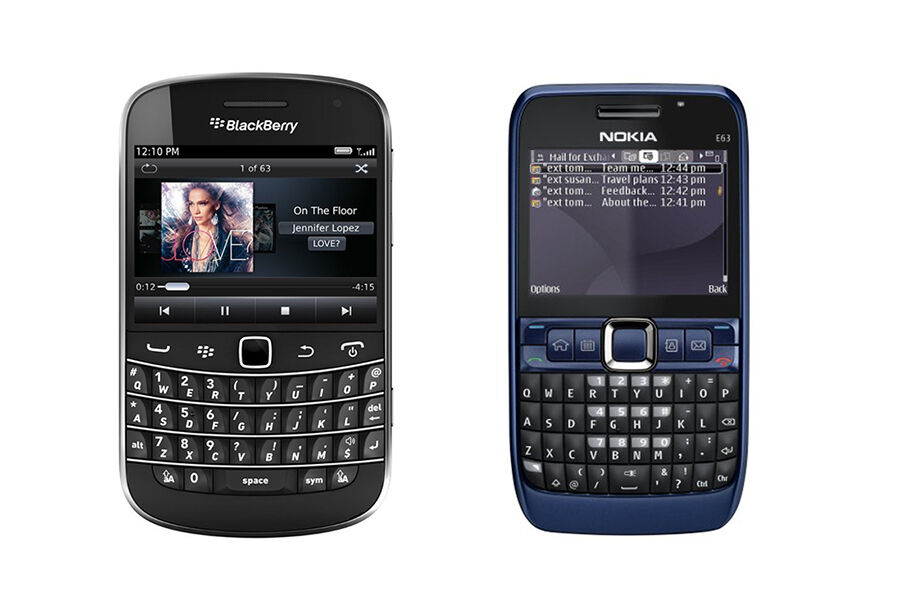 Smartphones come in all shapes and sizes meaning there are phones that cater to a varied range of different markets. This is where the QWERTY keyboard clad Nokia E63 and BlackBerry 9900 comes in with their business centric approach.
Each one has its advantages and draw-backs, the buying guide below identifying the vital statistics of each device, what each one offers and lastly helping buyers to buy one safely and securely using the site.
Comparing the Nokia E63 and BlackBerry 9900
| | | |
| --- | --- | --- |
| Specification | Nokia E63 | BlackBerry 9900 |
| Release Date | November 2008 | May 2011 |
| Operating System (OS) | Symbian 9.2 | BlackBerry 7 |
| Dimensions (Height x Width x Depth) | 4.45 x 2.32 x 0.51 inches | 4.53 x 2.60 x 0.41 inches |
| Weight | 126g | 130g |
| Screen Size | 2.4 inches | 2.8 inches |
| Screen Resolution | 320 x 240 pixels | 640 x 480 pixels |
| Talk Time | 11 hours | 6.3 hours |
| Standby Time | 432 hours | 307 hours |
| Processor | Single core, 369MHz | Single core 1200MHz |
| Onboard Storage | 0.11GB – expandable with microSD or microSDHC up to 8GB. | 8GB – expandable with microSD or microSDHC up to 32GB. |
| Battery Size | 1500mAh | 1230mAh |
| Camera | 2-megapixel | 5-megapixel |
| Connectivity | Quad-band, Bluetooth, Wi-Fi and microUSB. | Quad-band, Bluetooth, Wi-Fi and microUSB. |
Vital Considerations
Now that we know the phone specifications in detail, it's time to look at how the devices actually perform when being used. The following section explains some of the pros and cons of each device.
Nokia E63
· When Nokia released the device it was at the affordable end of the market and as such is a business phone that can be picked up at a knockdown price – eBay being one of the best places to find one.
· The phone offers many of the basic features found in newer smartphones including integrated Wi-Fi, 3G support, Bluetooth and full email capabilities.
· GPS is not included in the device's arsenal of features.
· The camera is poor and there's no volume control on the side of the device.
BlackBerry 9900
· There is no other company that gets close to BlackBerry when it comes to smartphones with QWERTY keyboards and this is one of the best.
· Has a very fast processor and flawless email integration, which are both vital features in a device of this ilk.
· Works on a new version of the BlackBerry OS and has a very sharp screen.
· Photo and video quality are both extremely good.
· Not many apps are available on the BlackBerry app store.
· It will be far more expensive than the Nokia E63 as it's newer but compensates for this with better features.
General Phone Buying Considerations
There are various considerations to be made when buying any phone and they are outlined in the headings below.
Unlocked or Locked
This is one of the major things to consider when buying a smartphone as it will dictate whether or not your SIM card will work in the device. The table below explained the differences between the two.
State

Characteristics

Locked

· If a phone is locked it means that it can only be used on a certain network, which will be clarified in the item description.

· Buyers can buy phones that are locked to Boost Mobile, Optus, Telstra, and Vodafone.

· To unlock the phone contact the network the device is locked to, or visit a specialist shop.

Unlocked

· Phone can be used on any network on an international basis.

· Device will have either been bought from the manufacturer unlocked or has been unlocked at a later date.
Condition
Mobile phones depreciate in value like a car and it almost feels like once there's a new model on the block the previous one can be picked up for an incredibly affordable price. The two phones above can be bought in various different conditions on eBay, including:
How to Buy a Nokia E63 or BlackBerry 9900 on eBay
eBay is an excellent place to buy any type of mobile phone with the site's reliable sellers on hand to assist buyers every step of the way. Below are a few tips to buying from eBay:
· Finding a smartphone is easy and buyers should start off by going to 'Electronics' and selecting the 'Mobile Phones & Accessories' option from the list that appears.
· This will bring up a new page where buyers are advised to click 'Mobile Phones'. From here go to the search bar at the head of the page and type in either 'Nokia E63' or 'BlackBerry 9900' and it will bring up a number of each device for sale on eBay.
· This listing can be whittled down by using the parameters on the left hand side of the page including features, colour, style, condition, price and item location.
· Another simple way to find devices on the site is to use the search bar at the head of any eBay page.
Conclusion
When buying a QWERTY keyboard mobile phone there aren't many devices that come close to the Nokia E63 and BlackBerry 9900, with the two devices offering options to shoppers at either end of the market.
There are many devices for sale on eBay and this guide, along with the site's sellers, are the best way to research and buy such a device.
Once ready to pay for an item remember to use PayPal to make sure the transaction goes through as safely and securely as possible.