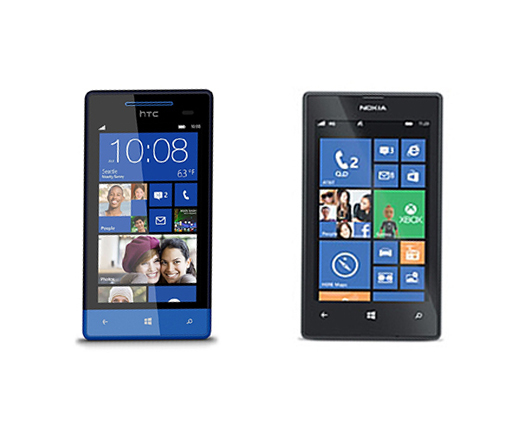 With there being a vast amount of competition in the smartphone market, both Nokia and HTC have had to keep up with their rivals in the market in terms of smartphone technology and mobile features.
Both the Lumia 520 and the HTC 8S are Windows phones, with the Lumia 520 being the biggest selling Windows phone (as of August 2013) since their introduction into the market.
Nokia Lumia 520 Features
· Digital Camera Lenses: The handset comes with a number of features to enable the Lumia 520 to become a digital camera, as well as a phone. The device has built-in lenses to allow for simple but effective images to be taken. These lenses also mean that motion can be added to still images, as well as allowing for multiple photos to be able to be taken with one touch on the screen.
· Nokia Mix Radio: This exclusive free music feature allows for Lumia 520 users to be able to listen to free music from a variety of different mixes created by Nokia. These mixes can be listened to offline, a useful initiative for those who may not always be in areas that data can be downloaded.
· Sensitive Screen: The way that the screen is set up on the Nokia Lumia 520 means that the screen is ultra-sensitive. This means that browsing, typing, and swiping are all easier than on a lot of other smartphones. Nokia also claim that the touchscreen can be used whilst using gloves, a feature that does not exist on the majority of its touchscreen competitors.
HTC 8S Features
· Lock Screen Camera: With smartphone cameras becoming increasingly more technologically advanced, HTC have added a feature that sets the 8S apart from other smartphone cameras. The phone has a setting that means that photos can be taken even if the screen is locked. This means that the user can immediately point and shoot without even having to unlock the phone.
· Beats Audio Speakers: HTC have teamed up with speaker manufacturers, Beats Audio, to provide the 8S with Hi-Fi quality speakers. Whereas other smartphone manufacturers do not place value on the importance of high quality audio playback, HTC allow users to listen to music, and watch videos with the highest quality sound playback available.
· Optimised Battery: One of the major complaints amongst smartphone users is that of weak batteries. The HTC has an optimised battery, teamed with the 1GHz dual-core processor, to allow for longer battery life, and therefore device usage.
Nokia Lumia 520 vs. HTC 8S Specifications
If looking to make the decision as to whether to purchase the Lumia 520 or the HTC 8S, there is no better way than comparing the two than in a specifications comparison table.
This can help one to understand the phone's overall performance, whether its Wi-Fi capability or battery life. The table below is provided to help with this comprehension:
Specifications

Nokia Lumia 520

HTC 8S

Dimensions

Weight: 124

Size: 119.9 x 64 x 9.9 (HxWxD in millimetres).

Weight: 113g

Size: 120.5 x 63 x 10.28

Display

The IPS panel LCD screen is 4-inches with a resolution of 480 x 800p.

The Gorilla Glass, LCD touchscreen is 4-inches, with a resolution of 480 x 800p.

Operating System

Windows 8 (upgradeable to Windows 8 'Amber').

Windows 8.

Memory

There is 8 GB (512MB RAM) of internal storage. This can expanded to 64 GB with a microSD card.

There is 4 GB (512 MB RAM) of internal storage memory in the 8S. This can be expanded to 32 GB via a microSD card.

Connectivity

The Lumia 520 is Wi-Fi enabled with a micro-USB 2.0 drive and a Bluetooth v3.0 drive.

Because the 8S is Wi-Fi (DNLA) enabled, it can be used as a Wi-Fi Hotspot.

Bluetooth v3.1 is also integrated.

Battery Life

1430 mAh capacity battery.

Li-Ion battery with a 1700 mAh capacity.

Camera

5 Megapixel camera with 720p video recording.

5 Megapixel rear-facing camera with 720p video recording.
With all this in mind, there is not much difference between the two phones. The only noticeable difference between the two is that the Lumia 520 has more memory, whereas the HTC 8S has a higher battery capacity.
How to Buy a Nokia Lumia 520 or HTC 8S on eBay
With both phones being so popular on the market, there are number of handsets available, at more affordable prices than retail stores, on eBay and eBay Deals.
The site has hundreds of Lumia 520 and HTC 8S handsets listed. To find these, head to theMobile Phone section, found under the Electronics drop down menu. From there, use the refinement tabs to search for 'Nokia' or 'HTC' phones, before typing the model name into the keyword search bar.
If a handset or price catches the eye, be meticulous in going through the details provided by the seller and do not hesitate to contact them directly if there are queries. Compare the seller's information with that provided in this guide to ensure an honest transaction.
Once a handset has been found, one can either place a Bid or utilise theBuy It Now option and go on to use PayPal as a payment method.
Conclusion
As the guide proves, there is not a lot of difference between the Nokia Lumia 520 and the HTC 8S.
Both phones make use of Windows 8 as their operating system, have 5 Megapixel cameras, and have very similar dimensions.
Therefore, if one prefers a longer lasting battery, the HTC 8S should be the phone of choice, whereas if one desires a phone with more internal and removable storage memory, the Lumia 520 is most suitable. Head to eBay to purchase the selected device at a sensible price and in a secure environment.