Norton Motorcycles 2nd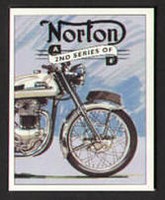 This is one of many illustrated classic motorcycle guides I've created for the community. I hope you enjoy it. If you wish to find out more about the classic Norton motorcycle art featured in this guide please click here.
This guide details celebrates the marque of Norton, one of the most instantly recognisable and evocative names of the British motorcycle industry. Covered here are some of Norton's finest twin-cylinder motorcycles of the 1960s and 1970s, models oozing with British quality and style. Such familiar names as the Dominator, or Dommie for short, one of the all-time classics and the Commando, the stretched parallel twin released in 1968 which fought the Japanese multis for so long. Norton flew the British flag for years and remains one of the best loved of British marques.
Norton Navigator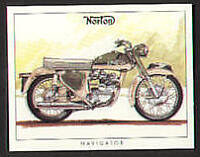 The year 1958 saw Norton celebrating its Diamond Jubilee, and to mark the occasion, the company launched its first lightweight twin, The Jubilee. It was followed in 1960 by a 350cc version, the Navigator.
Norton 650SS Dominator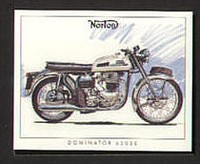 Generally considered to be the best of the Featherbed Dominators, the handsome 650SS was launched in 1962. Adding serious horsepower to the "unapproachable" chassis, it featured an uprated 49bhp motor of 646cc and almost out of the crate, the newcomer was capable of winning races. Priced when new £351.00.
Norton Atlas
Produced from 1962, although only available from February 1964 for the home market, the Norton Atlas was the starting point for the range of 750cc Norton twins that remained in production until 1975. Cycle parts remained as always with the famous featherbed frame and forks rolling on alloy hubs with single leading brake shoes.
Norton P11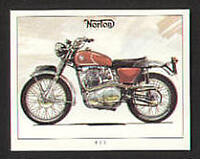 Norton's P11 "Desert Sled" was something of a parts bin special, a mix and match combination of parts from Norton and parent company AMC. Designed to suit the American market and originally for export only, the result was so good that the few that found their way onto British roads, along with many more recent re-imports, rapidly achieved cult status.
Norton 750 Commando "Fastback"
The Commando, in 750 and later in 850 form, was the final development of the archetypal British vertical twin. Essentially, it was yet another update of Bert Hopwood's 1948 design, in an attempt to rescue the famous Norton name from disaster. The Fastback model was the raciest of the Commando line, introduced in 1969.
Norton 850 Commando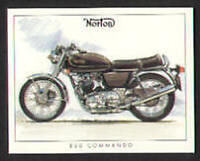 The Commando grew to 850cc in 1973, when the engine was uprated with stronger crankcases and the bore increased to 77mm. In a milder state of tune than the Commando 750, with compression now at 8.5 to 1, its easy cruising manner and low-speed pulling power won it many friends as an appealing alternative to the high-revving Japanese machines.
Thank you for reading my guide and I hope you found it interesting!