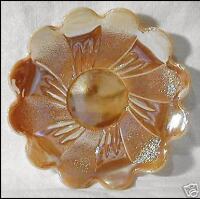 Not All Glass Made During The Depression Is Depression Glass.
The term "Depression Glass" came into use among glass collectors in the 1960s, and is used to describe a certain category of glass made during the Depression era.

Depression Glass refers to American glassware that was mass produced, broadly available and inexpensive. It was often colored and frequently patterned.

Depression Glass was sold in dime stores or given away as premiums. It usually came in complete table services, not just glassware, but also plates and bowls, cups and saucers. The more expensive glassware from the same era is considered "Elegant Glass".

Depression Glass and Elegant Glass can often be distinguished by the manufacturer.

Jeannette, Anchor Hocking, Hazel Atlas, Federal, and Indiana were the major manufacturers of Depression Glass.

Cambridge, Heisey, Tiffin and Fostoria are the big names in Elegant Glass.

But what about Paden City? What about Imperial? Argh! I almost hate to tell you this. With some manufacturers, it depends on the pattern. Paden City's Gazebo is considered Elegant Glass, whereas their Peacock and Wild Rose is classified as Depression Glass.

Don't worry too much about these distinctions; most dealers and collectors who deal in Depression Glass also deal with Depression era Elegant Glass. But you need to be aware of it if you are hoping to identify some patterns. If you can't find it in the Depression Glass references, try Elegant Glass.

It's also a factor if you're looking for something on eBay. A Cambridge pattern will be listed in Elegant Glass, even if it was made in the 1930s.

The colors most commonly associated with Depression Glass are pink and green. These are pastels, and the true Depression pink has a peachy tinge to it.