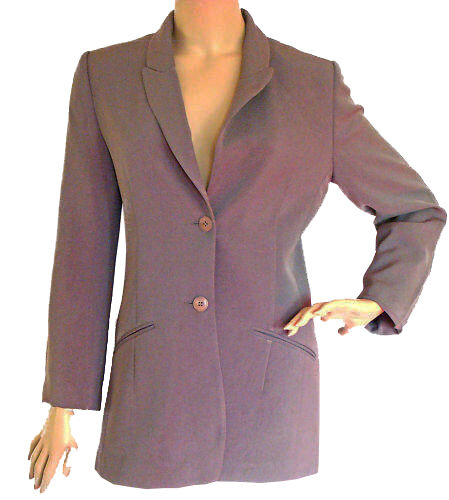 In the cooler months of the year, an outfit is incomplete without the right outerwear. Coats and jackets are a staple in any woman's wardrobe and the right type of outerwear can flatter her figure and add some flair to an otherwise boring outfit. Although now defunct, buyers can still purchase gently used and vintage jackets from Australian women's clothing manufacturer, OJAY. Its classic designs endure ever-changing fashion trends and buyers can wear their jackets for almost any season. While these jackets are difficult to find in brick and mortar shops, finding them on eBay is relatively easy. With thousands of sellers on the site at any given time, buyers can find an OJAY jacket that best suits them.
Popular Types of OJAY Jackets
While OJAY designs dozens of jackets every season, there are a few popular designs that fit a variety of body types and outfits. The most common types of OJAY jackets are the suit jacket, duffle coat, military jacket, trench coat, and cape jacket.
Suit Jacket
Suits are the outfit of choice for people who work in corporate and business settings. The suit jacket, in particular, is a versatile piece of clothing that any woman can wear. Women can transform this outfit into a nighttime outfit by wearing a slinky dress or blouse underneath and a pair of sexy stiletto heels.
Duffle Coat
A warm OJAY duffle coat is the perfect outerwear for those chilly days and nights. A duffle coat should technically be made of this material and has a hood, four toggle-fastenings made from wood or horn, leather loops, and two outside pockets. It usually comes down to the knees, but some designs are shorter. Women can wear this jacket over a thick sweater and some fabulous leather trousers.
Military Jacket
OJAY military jackets feature design sensibilities from dress uniforms while still creating a look that is avant-garde. Military jackets usually come in navy blue, black, and forest green colours. They look great with a soft sweater or military-style boots.
Trench Coat
While the trench coat was part of the British Army dress, this stylish jacket is now one of the most popular jacket designs in the world. A trench coat features a double-breasted front with 10 buttons, large lapels, and a belt. In the springtime, a classic OJAY trench coat in tan works best with a pair of jeans and rain boots in bright colours.
Cape Jacket
The cape jacket, as its name implies, uses a cap or poncho-style design wherein the fabric goes around the shoulders. However, instead of keeping the hands under the fabric, the jacket has slits or actual sleeves through which a woman puts her hands. Buyers can create a cool fall look by pairing an OJAY cape jacket with a pair of skinny jeans and boots.
Considerations When Buying an OJAY Jacket
While design and style are certainly important when choosing a jacket, there are other factors that are also important. When searching for an OJAY jacket, buyers should consider the material, the season, and of course, the size and fit before making any purchase.
Material
OJAY jackets come in a variety of materials. When choosing any type of material, buyers must consider their own needs and wants. For example, suit jackets can come in wool, polyester, crepe, tweed, linen, and more. Synthetic materials are quite inexpensive, but can quickly appear worn.
Season
Jackets are a must-have for the cooler spring, autumn, and winter season. It is important for a buyer to wear the right jacket for the right season so she does not feel too cold or too hot. Trench coats use light, water-resistant fabrics, which is why most people wear them during the spring. In the chilly autumn and winter months, a leather or a heavy wool duffle coat or cape jacket keeps the wearer warm and comfortable.
Size and Fit
The fit of the jacket is another important consideration. There are some designs that look best on certain types of bodies and women should choose a jacket that flatters their bodies, hides flaws, and shows off their best parts. The chart below can serve as a guide for women of different body types.
Body Type

Description

Jacket Type

Short stature

Usually anyone under 5 feet 4 inches

Slim build

Short, fitted jackets

Boyish

Rectangular shaped body

Small breasts

Long torso

Trench coats tied to the waist

Pear-shaped

Larger hips

Smaller upper body

Jackets with embellished tops

Fit and flare jackets

Hourglass

Curvy shaped

Large breasts and hips with a small waist

Any jacket with a large belt to emphasise the waist

Apple-shaped

Heavy top

Broad shoulders or large midsection

Empire-waist coat

Cape coats to hide large bellies
Choosing the right size coat ensures that the wearer feels comfortable and looks stylish, instead of sloppy. While these fashion rules can help women find the best coat for their body types, buyers should also try to experiment with different designs to find the coat that best suits them.
How to Buy an OJAY Jacket on eBay
While most people know about the search box on eBay, few know how to use the advanced search. This search option allows you to specify parameters from the beginning, so you can get a truly targeted list of results. You can choose many different qualifiers to help you narrow down the selection, like price range, condition, and even location. A jacket is a necessary piece of clothing for the colder seasons. The right jacket not only keeps a woman warm, but can also add some style to any outfit. Vintage OJAY jackets come in a variety of styles and buyers can surely find one that flatters them and helps keep them warm.