CARNELIAN ~ WHAT DOES THE ORANGE RAY MEAN & WHAT ARE THE BENEFITS?
Carnelian
A beautiful orange coloured gemstone, Carnelian is linked both to the Root Chakra and the Sacral Chakra.

Healing Properties
As a healing stone it has long been believed to help cure diseases of the blood, as well as to stop nose bleeds.
It is said to aid in the elimination of toxins and waste products from the body, and has been used, in the form of an elixir, to help cuts and abrasions heal more quickly.
Carnelian helps fight negativity and depression, enabling us to look at the brighter side of life, bringing with it a feeling of optimism.
It is believed to help quell feelings of anger and annoyance, allowing for logical and clear thinking to rule our actions.
Carnelian is a grounding stone and also helps with stress-related problems - next time something makes your 'blood boil'- think about reaching for some carnelian to help calm you down!
Carnelian gives us extra energy when we're feeling tired or run-down and it is said to be especially helpful at increasing sexual energy!

Courage and Inspiration
It is stone of courage and inspiration, helping us to overcome our fears - especially beneficial for those nervous of public speaking as it said to aid the speaker to be not only relaxed and confident, but more eloquent too. This also makes it an ideal talisman for actors and those involved with the theatre.
As a stone of protection Carnelian was used in ancient times to protect the home from lightening strikes and storms.
It was also carried as an amulet to ward off psychic attack and as protection against 'the evil eye'.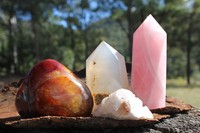 ~~~~~~~~~~~~~~~~~~~~~~~~~~~~~~~~~~~~~~~~~~~~~~~~~~~~~~
About
Healing Centre and New Age/Spiritual Gift Store

Healing Services:
Reiki

Seichim

Ear Candling

Ionic Foot Detox

Aromatic Foot Bliss

Aromatic Head Massage

Goddess Oracle Readings
Crystal Earth Spirit ~ Healing in Harmony
Discover a wonderful range of Crystals, Jewellery, Dream Catchers, Clothing, Aromatherapy, plus unique Spiritual and New Age Gifts.
Thank-you for visiting my store I am Blessed to be able to share these wonders of nature with you.
Sunshine Rainbows and Avalon Blessings. xxx