Greetings
A growing body of research shows that pesticides and other contaminants are more prevalent in the foods we eat, in our bodies, and in the environment than we thought. And studies show that by eating organic or biodynamic foods, you can reduce your exposure to the potential health risks associated with those chemicals.
This is Part 3 of a series we are offering on BIODYNAMICS, ORGANICS & LIVING FOOD.



What is the Living Food Lifestyle™ ?
Living food is provided by nature, organically grown in its original, uncooked state.
Live foods provide the body with the life-giving, easy-to-digest nourishment needed to strengthen the immune system. Seeds, grains, nuts, fruits and vegetables in their natural, uncooked state, are the living food used to rebuild health - physically, mentally, and emotionally.
The teachings of Ann Wigmore are simple, yet deeply rooted in the fertile grounds of love and compassion for humankind - planting generous and global seeds of hope and inspiration for those open and willing to receive change.
If you desire a more healthy and conscious way of life, want more energy and vitality, want to learn about environmentally friendly cuisine, and the benefits of raw organic foods for your health and for the planet, a Living Food diet is perfect for YOU!
Here at Nature's Wonderland, we want to support individuals in making life choices that promote health and well being in all aspects of their lives.
Eat a natural diet of alive raw fruits and vegetables


Overcome illness the natural way and realise complete rejuvenation


Avoid pain and suffering, colds and disease and medical bills


Become your own self-health care guide


Create glowing health and superb fitness


Feel youthful and assure extraordinary longevity


Design a most healthy lifestyle, so that you can experience the joyous living for which you have always longed, but thought was only possible in your dreams.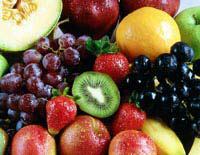 There are numerous benefits to both eating organic foods, and to biodynamic and organic gardening. You will receive a huge benefit that comes from a renewed relationship with nature. It starts with an " I won't poison you; you won't poison me" attitude, and ends with " I'll nurture and respect you; you nurture and respect me." Doing your own organic gardening makes this a personal commitment. Gardening is just plain good for the soul. There is nothing quite like getting your hands in the soil for really good "grounding".
In addition to the mental and emotional benefits of growing and eating organic food, there are also the physical benefits. These physical benefits can be pinned down to nutrients present in organic foods that are not in commercial foods and toxins not in organic foods that are present in commercial foods. Organic foods have much higher levels of nutrient minerals than non-organic food and much lower levels of heavy metals.
Here are a few of the nutrients found in higher levels in the organic foods:
* Chromium is a micronutrient that is low in Western diets. Its deficiency is associated with the onset of adult diabetes and atherosclerosis (hardening of the arteries). Chromium has been found to be higher in organic foods by an average of 78%.
* Selenium is one of the antioxidant nutrients that protects us from damage by environmental chemicals. It is protective against cancers and heart disease. It has been found to be an average of 390% higher in organic foods.
* Calcium, needed for strong bones, averages 63% higher in organics.
* Boron, which has been shown to help prevent osteoporosis (along with calcium), averages 70% more.
* Lithium, which is used to treat certain types of depression, is 188% higher.
* Magnesium, which reduces mortality from heart attacks, keeps muscles from having spasms, and eases the symptoms of PMS, averages 138% more.
In short, many of the minerals are found in much higher levels in organic foods.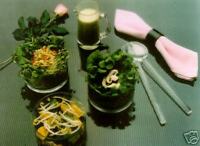 Eating organic food, drinking pure water, and watching our airborne chemical exposure can have profound positive effects on our health.
What is needed to prepare all this wonderful food??
SEEDS to grow your own SPROUTS

A SPROUTER to enable the seeds to be easily grown

A JUICER to make all those delicious veggie and fruit juices

A Food DEHYDRATOR for either yummy snacks or for preserving food

GRAINS & a GRAINMILL to make your own fresh breads

A SOY MILK MAKER to make milks from Soya Beans, or any nuts or grains that you may prefer - plus make your own TOFU

WATER FILTER, Purifier or Distiller - cleanse your water from all those chemicals that are added to the city water supply!


By altering your eating habits, you will open up a new lease of life for yourself and your family.
Thank you so much for sharing your time with us
as you wander through our Store.
Namasté
SerpentineMoon
To give you confidence in the quality of our work and business etiquette, please read our
Feedback Comments
and also visit our *
About Me
* page.

Keep a look out for our next series of Guides in which we will offer some yummy RECIPES using BIODYNAMIC, ORGANIC & LIVING FOOD and the Kitchen implements discussed:
Do let me know if this information has been valuable to you - thanks :)