***STEPHEN'S "PLEIN AIR" PAINTING TIPS***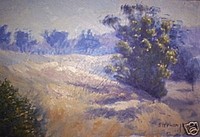 "Morning light in the swan valley, W.A" Oil on linen
Painted on site in aprox 1 hour 40 mins
"Plein air" painting
(which basically means painting on location)
Hi friends and welcome.
I am going to share with you some 'plein air' painting tips that should make your outdoor painting life a lot easier.
O.K, so your keen to get out of the studio and paint what's really in front of you. FANTASTIC! When I was younger I would paint from photo's a lot, later on I just got sick of it. Now working from a photo is fine, I still do occasionally, but It can never replace the real thing. Tones and perspective are altered from photo's, they're two dimensional, what do you expect.
LET'S START.
1. I hope you go it alone. Many artists go with a friend or more, that's fine but going alone teaches you more in my opinion. You won't have distractions, idle chat etc. It's just you and nature!
_____________________
2. PREPARATION! VERY IMPORTANT. Once I went painting, set up my watercolour easel etc, and realised I left my tape at home to stick the paper down. FRUSTRATING!
____________________
So mentally go through or have a list ready made of everything you will need.
DON'T TAKE THE KITCHEN SINK, JUST WHAT YOU NEED.
I'LL GO THROUGH AN EXAMPLE LIST FOR YOU A BIT LATER.
_____________________
3. IT PAYS TO CHECK THE WEATHER THE NIGHT BEFORE, SO YOU KNOW WHAT YOU'RE IN FOR.
4. SO YOU'RE IN YOUR CAR AND READY TO FIND THAT PERFECT SCENE. YOU DRIVE AND DRIVE, AND DRIVE. YOU THEN GET FRUSTRATED BECAUSE YOU HAVEN'T FOUND IT. Sometimes the perfect scene could be just around the corner. You have to train your eyes to really see.
5. Once you have found an ideal location, take your time to really absorb it, smell the air, take it in. IT PAYS TO USE A VIEWFINDER. THESE ARE GREAT IN HELPING COMPOSE THE PAINTING, AND THEY SHOW YOU HOW THE PAINTING WILL LOOK ONCE MATTED ETC.
(You can get an old slide, cut out the photo, and you're left with a perfect little viewfinder that you can carry everywhere you go. I keep mine in my wallet.)
6. Set up safely. I work standing at my easel and once I was so excited to start painting I didn't realise that just one meter behind me was the edge of the cliff! I often step back to view my work and when I did I almost went over! really.
7. The landscape has so much going on in it. Simplify. You don't have to draw every tree and shrub just because it's there. I often move things around to suit my painting, you're really designing in a way.
8. PEOPLE! If you happen to be in a location where people often wander by you must learn how do deal with this. For me it doesn't bother me much at all, I'm used to it now. Some artists don't like it.
Often people will ask if they can have a look. Most people are amazed to see an artist paint like this. Of course let them. Keep discussion brief. I'm happy to talk briefly. Don't ignore them. Don't let them ruin your session however. They may say something negative, you have to learn to deal with this in your own way, and soldier on.
8. Spend no more than 2 hours on location. 1 hour 30 minutes should really be enough. Any longer and you could be just noodling around, and lose concentration.
9. Clean up. Respect the land.
10. Take notes etc, for any final touches back in the studio.
11. Build yourself a suitable carrying box for wet paintings to protect them during transit. For oil paintings, pastels etc.
12. Back home have a break from the painting. Come back to it later on in the day, or better still the next day. You'll be surprised how you see it then.
HAVE IT FRAMED AND ENJOY. Or keep it for future reference, date the back so you can see your progress.
YOU'RE DONE.
Oh yeah, here's an example list:
AEROGAURD
GOOD HAT
SUNSCREEN
GOOD FOOTWEAR
VIEWFINDER
SKETCHBOOK/PENCILS
EASEL / PAINTS OF COURSE
FOLDING CHAIR (OPTIONAL)
TISSUES/ WET-ONES
PLASTIC BAG FOR USED TISSUES ETC.
THERMOS FOR COFFEE (THIS IS PARAMOUNT!) COOKIES TOO!
BACK PACK (FOR THESE THINGS TO GO IN
TRAVEL LIGHT!
THAT'S RIGHT, MASKING TAPE! (Won't need if you're an oil painter)
&
ENTHUSIASM!
BE EXCITED ABOUT YOUR SUBJECT!
THE END.
BYE FRIENDS. Thankyou.
Kind regards,
Stephen J. Salo
___________