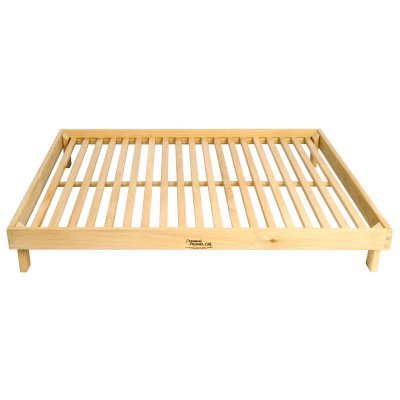 Although most people may think of a mattress as what determines a good night's sleep, the bed frame can play a major role in the overall feel of the bedroom. Stylewise, an oak bed frame makes a great addition to any room, but it is also strong and durable, which makes it last. Oak frames come in a variety of sizes and styles, so buyers can find an bed frame that suits their sense of style as well as their budget. Hence when making an informed choice, there are several factors to consider when buying an oak bed frame, including its benefits, the finishes available, the size of the bed, and the various styles at one's disposal.
Why Choose Oak Bed Frames
Oak is naturally a strong wood, resistant to fungal and insect attacks. Beyond that, it resists damage from moisture, bends easily, and finishes well. These factors make it an excellent choice for furniture, including bed frames. Another reason oak remains a popular choice is its beautiful grain, which adds a sense of elegance to any room. This type of wood is also beneficial in that it is easy to maintain after being lacquered, requiring only an occasional polishing.
Oak Finishes
Oak furniture comes in two varieties: dark and light. Light oak has a cool tone, which makes it a better choice for smaller rooms and paint colours such as blues and greens. Dark oak is richer and warmer. Therefore, its heaviness makes it better suited to larger spaces and warm colours.
Bed Frame Sizes
One of the first decisions to be made is the size of the frame, which depends on the mattress. Mattress dimensions are as follows: (single-188 x 92, king single-203 x 107, double-188 x 138, queen-203 x 153, and king-203 x 183 centimetres). Apart from ensuring the mattress fits in terms of length and width, buyers need also to account for the depth of the mattress and its base (if any). This affects the overall height, whether the bed is close to the floor or higher up. Also remember that the frames are larger than the mattresses themselves, so plan accordingly when measuring for a room.
Styles of Bed Frame
Apart from the colour of the oak and the size of the frame, buyers need to factor in the style of oak bed frame they want. Ornate, elaborate designs work well for an elegant, romantic room, while simple ones are best for a clean, neat look. Beds with a low footboard tend to open up space in a small room while a tall footboard and large headboard fills up a large space. Modern styles have clean lines, while classic designs tend to be ornate and detailed.
Four-Post Bed
Four-post beds conjure up images of the romantic era, with posts that rise from all four corners of the bed. The posts themselves may be simple, or intricately detailed. In either case, a four-poster is a great choice of bed frame for owners who want to make their bed the focal point in the room.
Low-Post Bed
A low-post bed is a scaled back version of a four-poster bed. The frame has four posts at the corners, but the height of the posts typically does not reach above the headboard, though they may be capped with some sort of ornamentation. The styles vary from the simple and rustic to the modern, and even include elaborate romantic designs.
Platform Bed
Platform beds are one of the most traditional designs for a bed. They are low to the ground with a solid foundation for a mattress, which eliminates the need for a base. The beds also have a minimal profile that works for small spaces. Furthermore, the design makes a platform bed easy to get in and out of.
Sleigh Bed
Sleigh beds get their name for the fact that they mimic the curves of a sleigh, with high scrolled headboards and footboards. Sleigh beds are ideal for larger spaces because of the large profiles, but they make a great focal point in a room.
Storage Bed
Storage beds are similar to platform beds in design. However, they have built-in drawers or sliding panels that allow owners to place things, such as extra blankets, sheets or pillows under the bed. A storage bed makes a great choice when space in a room is limited, because the bed does double duty. The drawers or panels may be located along the sides of the bed or at the rear.
Tester Bed
A tester bed is similar to a four-poster, except that it has cross beams connecting the posts, which allows for a canopy to hang from it. Like four-posters, they can be simple or ornate, and they can create a romantic feeling in a room. These canopy beds can be hung with light fabrics as well.
How to Buy
eBay is a great source to turn to for oak bed frames and other furnishings. You can locate items by using a keyword search on any ebay web page and then by narrowing down your options according to product category and other refinement filters. Or, you can head over to the eBay Deals page to check out special offers on home furnishings, including bedroom furniture. As you browse items, pay attention to the seller's location. You may be able to organise a local pickup if both parties are comfortable with the arrangement. Also, a good idea is to check the seller's feedback history to see what other buyers have said about their own experiences. You can find great customer service from top-rated sellers, too.