Fishing Cigarette Cards (Collectables)
I've been collecting and selling trading cards, cigarette cards and related collectables for over twenty years. Before you read this guide please subscribe to my card collecting newsletters for updates on rare cards and tips on buying by Clicking Here, thank you.
The human race's fascination for fish can be traced back to thousands of years. Angling is still as popular as ever perhaps even more so. This might stem from man's desire to escape the increasingly hectic, fast paced modern world that he has created. Maybe mankind envies the seemingly stress free lives of these alien creatures from another world. Or, perhaps mankind is subconsciously fishing for the meaning of life itself.
From 1870s-1930s, tobacco companies produced sets of cigarette cards on many topics, hoping to hook new customers to their products. They were quick to exploit the popularity of fishes and fishing.
I've listed a small selection of cigarette card sets on fish and fishing below. I've provided scans of a sample card from each set and I've tried to list as many card titles as possible.
Fishing Card Sets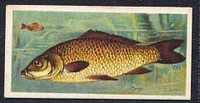 Name Of Set: Fishes of the World
Manufacturer: John Player and Sons
Issue Year: 1903
Card Number: 50
Card Titles: Parrot-Fish, Opah or King-Fish, Mackerel, John Dory, Globe-Fish, Gar-Fish, Flying Fish, Electric Eel, Dolphins, Cuttle-Fish, Sea Scorpion, Sea Perch, Sea Bream, Salmon, Roach,Porpoise, Pipe-Fish, Pilot-Fish, Perch, Pearly Nautilus, Weever, Trunk-Fish, Torpedo Fish, Tench, Tarpon, Sword-Fish, Sturgeon, Striped Wrasse, Sting-Ray, Smooth Hound, Coral Fish, Carp, Bream,Blenny, Bichir, Bass, The Barramunda, Barbel, Armed-Gurnard, and Angler-Fish.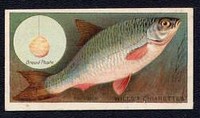 Name Of Set: Fish And Bait
Manufacturer: WD and HO Wills
Issue Year: 1910
Card Number: 50
Card Titles: Pike, Barbel, Sea Trout, Minnow, Gudgeon, Salmon, Chub, Roach, Perch, Common Bream, Carp, Brown Trout, Wrasse, Grayling, Bull Trout, Silver Bream, Burbot, Skate, Tench, Eel, Dace, Rainbow Trout, Bleak, Char, Shad, Hake, Ruffle, Conger Eel, Smelt, Rudd, Flouder, Plaice, Ling, Grey Mullet, Bass, Cod, John Dory, Halibut, Pouting, Turbot, Pollack, Haddock, Gurnard, Whiting, Coalfish, Dab, Sole, Sea Bream, Mackeral, and Scad.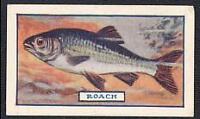 Name Of Set: Fish
Manufacturer: Godfrey Phillips
Issue Year: 1924
Card Number: 25
Card Titles: The Bream, The Ruff, The Sturgeon, The Bleak, The Eel, The Barbel, The Gwyniad, The Pollan, The Miller's Thumb, The Carp, The Gudgeon, The Pike, The Bass, The Roach, The Chub, The Dace, The Rudd, The Burbot, The Loach, The Perch, The Salmon, The Trout, The Char, The Grayling, and The Tench.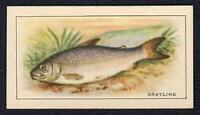 Name Of Set: Fish
Manufacturer: RJ Lea
Issue Year: 1926
Card Number: 25
Card Titles: Great Lake Trout, Tench, Pomeranian Bream, Pike, Golden Tench, Bronze Carp, Broad-Nosed Eel, Grayling, Perch, Barbel, Dace, Rudd, Salmon Trout, Bull Trout, Chub, Roach, Salmon, Common Bream, Salmon Parr, Carp, Black-Finned Trout, Loch Killin Charr, Short-Headed Salmon, Common Trout, and Windermere Charr.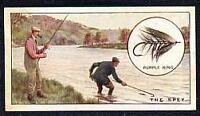 Name Of Set: Angling
Manufacturer: British American Tobacco
Issue Year: 1930
Card Number: 25
Card Titles: Chub, Field, Bream, Bass, March Brown, Blue Upright, Conger, Salmon, Mackerel, Grayling, Ferox, Codling, Sea Trout, Perch, Trout, Pike, Purple King, Jock Scott, Orange Quill, Roach, Barbel, Wilkinson, Thunder and Lightning, Char, Brown and Gold Devon, The Avon - Hampshire, Blagdon Lake, Bream Fishing on the Broads, Bass Fishing off the Cornish Coast, Trout Fishing on the Dart, Conger Fishing at Deal, Salmon Fishing on the Dee, Mackerel Fishing off the Devon Coast, Grayling Fishing on the Dove, Playing a Ferox on the Loch Ericht, Filey Brigg - Yorkshire, Sea-Trout Fishing in the Hebrides, Perch Fishing on the Lea, Trout Fishing on Loch Leven - Kinross-shire, Pike Fishing on the Ouse, Gaffing a Salmon on the Spey, Salmon Fishing on the Tay, Dry-Fly Fishing on the Test, Fishing from a Thames Punt, Barbel Fishing on the Trent, Playing a Salmon on the Tweed, Salmon Fishing on the Usk, Char Fishing on Lake Windermere, Weighing a Salmon on the Wye, and Fishing from a Pier.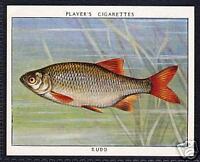 Name Of Set: Fresh-Water Fishes (Large)
Manufacturer: John Player and Sons
Issue Year: 1935
Card Number: 25
Card Titles: Barbel, Bream, Bull-Head or Miller's Thumb, Carp, Golden Carp, Char,Chub, Eel, Grayling, Gudgeon, Minnow, Perch, Pike, Roach, Rudd, Salmon, Sea-Trout, Ten-Spined Stickleback, Three-Spined Stickleback, Sturgeon, Tench, and Trout.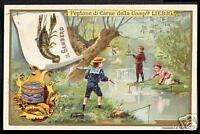 Name Of Set: Fishing II S599
Manufacturer: Liebig Extract of Meat Co
Issue Year: 1899
Card Number: 6
Card Titles: ?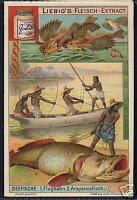 Name Of Set: Sea Fish
Manufacturer: Liebig Extract of Meat Co
Issue Year: 1903
Card Number: 6
Card Titles: ?
*
More Card Guides & Newsletters
If you are interested in rare and unusual cigarette cards please consider reading my other guides and joining my newsletters.