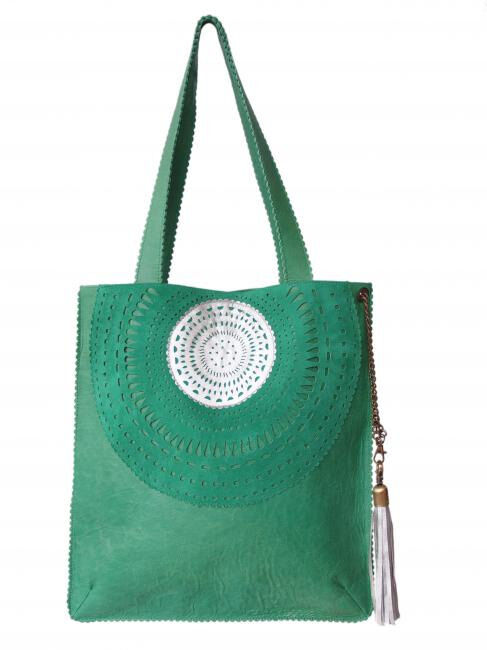 Featuring opulent bag fabrics, such as satin, leather, and suede, Olga Berg represents one of the leaders in the production of fashionable evening and day bags for everyday use. Bag seekers have a wide selection of Olga Berg bag styles from which to choose. When comparing bags, shoppers need to keep in mind any fashion needs they have, including bag colour and material, as well as size. Shoppers should also keep their body type in mind while shopping, as this can affect the bag style that they ultimately buy. When shopping for Olga Berg bags, shoppers can find a wide range of new and used bags for sale on eBay.
What to Look for in an Olga Berg Bag
Bag buyers should keep some important considerations in mind when shopping for an Olga Berg bag. These include such criteria as the style of bag they want, the materials that make up any bag they buy, and the colour.
The Different Olga Berg Bag Styles
When perusing the various Olga Berg items available, shoppers have the choice of a multitude of different styles. Some of these include: clutches, satchels, totes, and many more bag styles.
Clutch
A clutch bag offers a handbag without handles. Rectangular in shape, a clutch finds use both during the day and at night. Clutches often find themselves in everyday use as wallets to carry essential items. Clutches go great with pear body types.
Evening Bag
Great for those nights out on the town, an evening bag carries only the essentials. Some evening bags have a small strap, allowing their users to carry them on their wrist. Like a clutch, evening bags make a great purse for a woman with a pear body type.
Hobo Bag
The crescent-shaped hobo bag comes in a variety of soft materials including leather, suede, or microfibre. Commonly, hobo bags come in medium and large sizes, functioning as shoulder bags, though the occasional smaller bag exists. Larger hobo bags, with sharp curves, make great bags for women with curvy bodies.
Satchel
Handheld bags with flat bottoms and two short handles on top, satchels come in a wide variety of sizes. The most common closures for a satchel include snaps, buckles, zippers, and drawstrings. Soft-sided, satchels commonly come in leather. The petite body type makes a great complement to a satchel bag.
Shoulder Bag
Shoulder bags represent one of the most popular types of bag. They have multiple compartments, allowing them to hold everything a woman needs. Made of a variety of materials, these include cotton, canvas, leather, suede, or any material strong enough to endure use on a daily basis. Handbags look good on tall women.
Tote Bag
A tote bag has a square open top with straps or handles. Some have compartments while others do not. The tote typically finds use as a shopping or gym bag. Totes with sharp lines make great bags for females with lots of curves.
Olga Berg Bag Fashions
In addition to Olga Berg bag styles, shoppers have the choice of a wide selection of colours and materials. When comparing bags, shoppers should buy those that best fit their wardrobe, whether in colour or material.
Bag Materials
In addition to style, shoppers need to consider Olga Berg bag materials. These include canvas, various leathers, satin, and more. Bag buyers can use category listings on eBay to differentiate between the wide varieties of material types.
Material Type

Description

These bags have many small beads sewn into the fabric

The materials used include beads and sequins in a variety of patterns and colours

A heavy-duty material known for its sturdiness

Generally made of cotton or linen

Includes leather, faux leather, and patent leather

Durable and flexible material

A glossy material with a high lustre

Various types of satin exist, all of them lightweight

Less durable than leather, but softer

Easily becomes dirty, so needs cleaning often
Shoppers also have a large choice of bag colours. These include black, brown, white , gold, pink, purple, and red, among other popular colours.
How to Clean an Olga Berg Bag
Keeping a handbag clean once purchased represents another important consideration. Cleaning out the bag provides the first step bag owners should perform before cleaning. They can then turn the purse inside out and use a lint roller to remove much of the debris. If owners cannot turn the lining inside out, they should use the fabric brush attachment for their vacuum if they have one. Finally, they should clean the exterior of the bag with alcohol-free wipes before replacing the contents of the bag.
New and Used Olga Berg Bags
When comparing Olga Berg bags, shoppers need to keep their budget in mind. Bag seekers generally have a choice between new with tags , new without tags, or pre-owned items.
Search for eBay Deals
Another option that can save bag buyers money includes shopping on eBay Deals. Shoppers can look for daily deals on women's bags, and should check back regularly for new deals.
Buying Olga Berg Bags on eBay
Shopping on eBay for Olga Berg bags can provide an easy and worry-free experience for those who know how to find the items they seek. This includes using the search function found on every page. To utilise this function, shoppers should enter keywords. This, in turn, pulls up a list of refinements that allow bag seekers the ability to further narrow down their search. The various refinements include bag style, colour, material, condition, and cost. When seeking that perfect Olga Berg bag, shoppers have a wide selection to choose from when looking on eBay, including clutches, evening bags, satchels, and more.