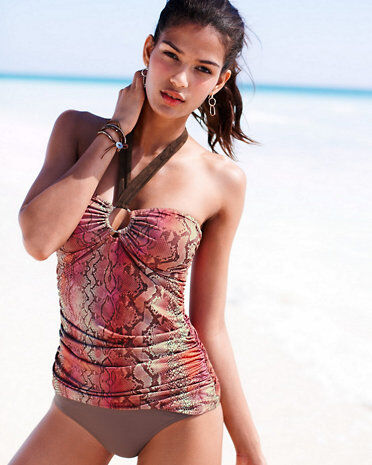 As soon as the weather starts warming up, it is time to hit the sandy beaches or the shores of a lake. However, women first have to face the daunting task of finding a bathing suit to purchase that meets their needs and is flattering on their body type. Shopping for a suit is intimidating and many people avoid it because of that. However, there are many options available to all women and it is possible to find a suit that they feel attractive in. To find the best swimwear, shoppers have to determine what styles would be best for them and what they intend to use the suit for. Competitive swimmers and athletes have different needs than recreational swimmers do.
One-piece Bathing Suits
One-piece bathing suits cover the most skin and they stay securely on the body. Because the risk of them falling off is so low, they are worn by athletes who need a snug bathing suit to stand up to their more aggressive swimming style. One-piece suits are also preferred by women who would rather not wear something as revealing as a two-piece swimsuit. Luckily, one-piece suits do not have to be boring. There are many styles to select from as well as lots of colour and pattern options.
Maillot One-piece Bathing Suits
Maillot bathing suits are what most people would consider to be the traditional suits with a basic shape. They feature various styles of leg cuts and there are several kinds of tops. Halter tops are popular because the wearer does not have to worry about the straps falling off. These attach to the chest and armpit area and then tie behind the neck. Strapless version of the maillot are available too but they run the risk of falling down while in the water. However, if women want the fashion of the strapless suits without the hazards, some bathing suits have clear straps that are not very noticeable.
Fitness One-piece Bathing Suits
Fitness bathing suits are designed to inhibit a swimmer's speed as little as possible. They are usually pretty tight, have regular spaghetti strap tops, high-cut legs, and are made out of slick materials to reduce friction. Usually there are not many colour options because they are made to look professional rather than fun.
Skirted One-piece Bathing Suits
These suits have a mini skirt on them that covers up the rear and part of the thighs. They are popular for women who want to stay as covered up as possible. Almost any kind of top can be found with them such as spaghetti straps or halter straps.
Monokini One-piece Bathing Suits
Monokini suits look like a bikini but the top and bottom are connected with a piece of narrow fabric going down the centre of the torso. The strip connects the top to the bottom, making the suit one piece despite the large amounts of skin showing. The advantage of these suits is that they stay on better than a bikini and because of their shape, they make a figure look curvy.
Keyhole One-piece Bathing Suits
Keyhole bathing suits have a spaghetti strap top and a large circle cut out of the back to reveal the skin. These are ideal for women who want the modesty of a one-piece but also a hint of a more sexy appeal that two-pieces get.
Slingshot One-Piece Bathing Suits
These suits are not a bikini or a one-piece, but since there are not any separate pieces, they fall into the one-piece category. Slingshot suits are very revealing with two pieces of material that cover as little of the chest as possible and then join down in the crotch area where they turn into a thong as they stretch around and up the back.
Tankini Bathing Suites
Tankini bathing suits are two-piece suits with a top that reaches most of the way down the torso. The two parts do not connect in any way, but tankinis cover more skin than bikinis do. The tops of the tanks typically have spaghetti straps or halter straps. There are also strapless versions as well, but they are not very common. The biggest part of selecting a tankini top is simply choosing the style and patterns that are most appealing. They come in all varieties with different embellishments such as ruffles or beads.
Hipster Tankini Bathing Suits
Hipster bottoms for tankinis sit low on the hips and they may or may not have high rise leg holes. They are designed to show off more stomach and draw the eyes lower down, making a figure appear to have an hourglass shape. The only trouble with these is that they cover less of the buttocks which can present a problem when moving around a lot.
Thong Tankini Bathing Suits
Thong bottoms have a triangular shaped front and strings that go around the waist and over the buttocks. These are very revealing and when viewed from the back they are nearly invisible. This is a popular European style that is starting to become more common in other cultures.
Skirt Tankini Bathing Suits
Tankinis with skirts cover up the most amount of skin. The bottoms feature a skirt that that reaches down to the thighs and covers up the rear. Many women who would like less of their legs exposed feel more comfortable with the skirts.
String Bikini Tankini Bathing Suits
String bikini bottoms either sit on the hips or higher up on the waist. They look like regular swimsuit bottoms but the side straps are strings rather than strips of fabric. The convenient feature about these is that they usually tie together so women can adjust the bottoms to fit exactly how they need them to. They also make the hips look a little wider than they are so these are great for women who have few curves and want to try and get that hourglass figure.
Boy Shorts Tankini Bathing Suits
Boy shorts are another option for anyone who wishes to be covered up. They usually only go a few inches down the thighs, but they cover up the lower hips and the entire rear.
Something to consider about any of these swimsuit bottoms is that they can be mixed and matched with various tops including bikini tops for anyone who would like a new style later on.
How to Shop for One-piece and Tankini Bathing Suits on eBay
The fact that there are so many varieties of swimsuits available can be both a curse and a blessing. Sorting through them might be tedious, but it is worth it to find that perfect suit that is both flattering and appealing. If you are up for an adventure, visit the eBay Deals page to see what great sales are going on. You can also find anything you need by using the eBay search bar. If you type in "tankini bathing suits" and then click the search button, you are presented with a list of products to browse through. Click on the ones that appeal to you and then look at all the pictures. If the suit is being modeled on someone, consider their body type and whether the suit would also be attractive on you.
Conclusion
Spending time in the water when the weather is warm can be both relaxing and fun. In order to relax in the water, though, women need a bathing suit that fits well and that they feel comfortable in. Finding a flattering suit can be stressful, but the easiest way to go about it is to choose one that covers as much or as little as desired and accents the body's best features. The suit could also be practical for the situation. For example, a tankini may not be the best option for surfers who get tossed around in the waves, as one of the pieces could easily get forced off. A one-piece suit is a much better idea for athletic activities.
one-piece|tankini|swimsuit|bathing suit|halter top