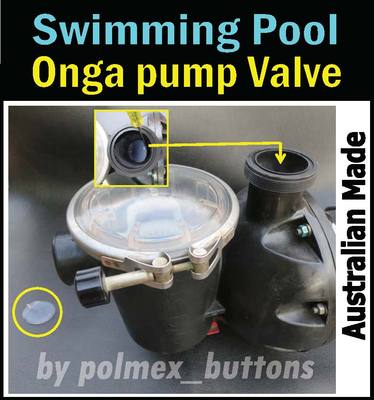 VALVE will fit older type of ONGA swimming pool pump.
Our Modern improved design is made from highly durable LSR Silicone that will last for many years.
Designed and made in Australia by Polmex_buttons our improved design is much superior than original valve.
It helps to start pump
prevents pump from running dry during start-up
stop dirty water running back from filter to pump
Please visit our store for detailed information.
Why our LSR Silicone valve is better than old original valve ?
Superior properties of Silicone valve in comparison to valve made from other
elastomers used in industry are:
High- and low-temperature stability and compression resistance.
Flexibility
Tear strength
Long-term tensile strength
Chemical resistant
Weathering and aging resistance
Ozone and oxidation resistance
Outstanding properties of Silicone is our obvious choice of material, to manufacture replacement parts .
Our Silicone valve Will Outlast original valve Many Times Over.
Because of LSR Silicone's resistance to varied temperature range, valve will retain its original size and shape under compression. It will not become brittle and will not break when stretched.
Silicone valve is resistant to many chemicals, fluids and oils commonly encountered in service such as Detergent, Vegetable Oil and Methanol.
Silicone valve is resistant to the deteriorating effects of sunlight, ozone, rain water and atmospheric gases which cause weathering.
LSR Silicone valve will not deform, change shape, degrade and brake over period of time.