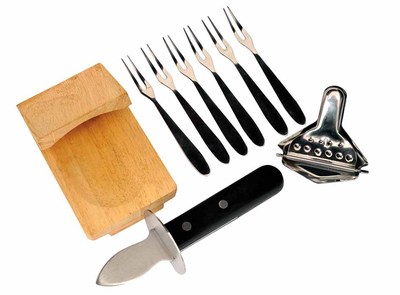 Oysters are bivalves and feed by filtering algae and other nutrients from the sea water in which they live. One oyster can filter at least 0.25 ML of water. In NSW alone, farmed oysters can remove over 1 million tonnes of suspended material, mostly phytoplankton, in their lifetime.

Unopened oysters: Oysters that are closed and have a fresh sea smell are the freshest. The oyster that is gaping (and doesn't close when you tap it) and/or smells fishy, has already died and should not be eaten.

To open a fresh oyster, place in the tray with the flat shell upper most and the hinge towards you. Insert the tip of the knife between the 2 shells close to the hinge. Push the knife in until it penetrates the shell and give it a twist from side to side to break the hinge. Always ensure you hold the holder whilst twisting or place the holder on a table for extra stability. Additionally this set comes with a set of oyster forks and a lemon squeezer, the ideal tools to enjoy those fresh oysters.