Do you want a deck that's honest and powerful?
Then you need the Oracle Of Shadow & Light.
Our clients LOVE these cards and you will too!
My husband and I have had a new age gift shop for over 5 years and we love that we can now share our products and knowledge with you no matter where you are. Our range includes: crystals, jewellery, books, CDs, DVDs, tarot decks, oracle cards, incense, resins and oils, salt lamps, candles and heaps of new age gifts. This is the latest deck from Lucy Cavendish and we think it is pretty fantastic.
Lucy Cavendish has created an amazing deck with the Oracle of Shadow & Light.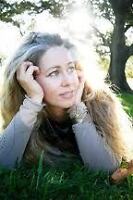 This is a great deck to use for reading for yourself or for others.
Unlike some other oracle cards that are all light and goodness these cards are not afraid to give you a good kick in the pants and give you a strong push in the right direction.
We keep a deck of Shadow & Light open on our counter in the shop so clients can come in and give themselves a mini reading. (And almost all of our staff have already bought themselves a deck.)

The artwork in the deck really gets the messages flowing and all artwork is done by Jasmine Becket-Griffith. Creating these amazing pieces of art is Jasmine's whole world and you can feel the energy pouring out of this deck and into your being. The different artworks really exemplify the message and make you sit up and listen to what you need to hear.
As you work with these cards you get the strong feeling of them speaking directly to you and many of featured Fae are looking you straight in the eye delivering their message strong and clear.
Be truly prepared to take yourself to another realm.
A great deck to extend your knowledge and your reading skills.
Add this beautiful deck to your collection by bidding now and share in all the great wisdom they have to offer you.
We have access to an enormous range of Tarot and Oracle decks but we will only list the cards that we honestly believe are the very best.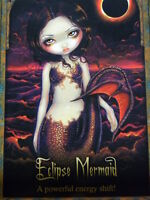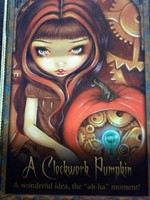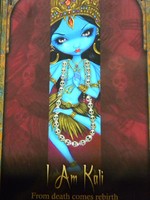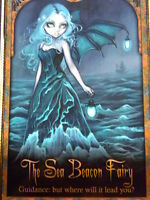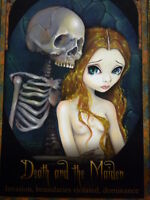 Once, we walked between the worlds, and interacted with spirit beings who shared great wisdoms and truths with us. Our connection to the truth of our own spirit, and to these sacred beings offered us protection, guidance and signs, and working together, we created divine lives of purpose, meaning, and creativity. Over time, we were told to mistrust these voices, and so we began to walk alone, often falling, becoming lost, and refusing to listen to the guidance Spirit offered us, even when help was all around us. Now it is time for you to open up to all the guidance, comfort and assistance that this beautiful Universe offers you."
Within the Oracle of Shadows and Light, you will be greeted by honest, delightful, fascinating beings, from guardian angels to protective faeries, wise little witches and sweet ghosts. Quirky, haunting and shadowy-sweet, these tell-it-like-it-is magickal messengers of shadows and light will deliver authentic, clear and straightforward guidance to help you make decisions every day. By connecting with these wonderful beings, you will develop your courage, your intuition, your happiness, and your belief in your own true self.
Created by bestselling author Lucy Cavendish and brimming with enchanting illustrations by the acclaimed artist Jasmine Becket-Griffith, The Oracle of Shadows and Light offers you 45 exquisite cards, an in-depth guidebook, featuring messages, and clear step-by-step instructions on how to give accurate, powerful and very healing readings for yourself and others. Walk through the veil, and enter the magickal world of the Oracle of Shadows and Light!