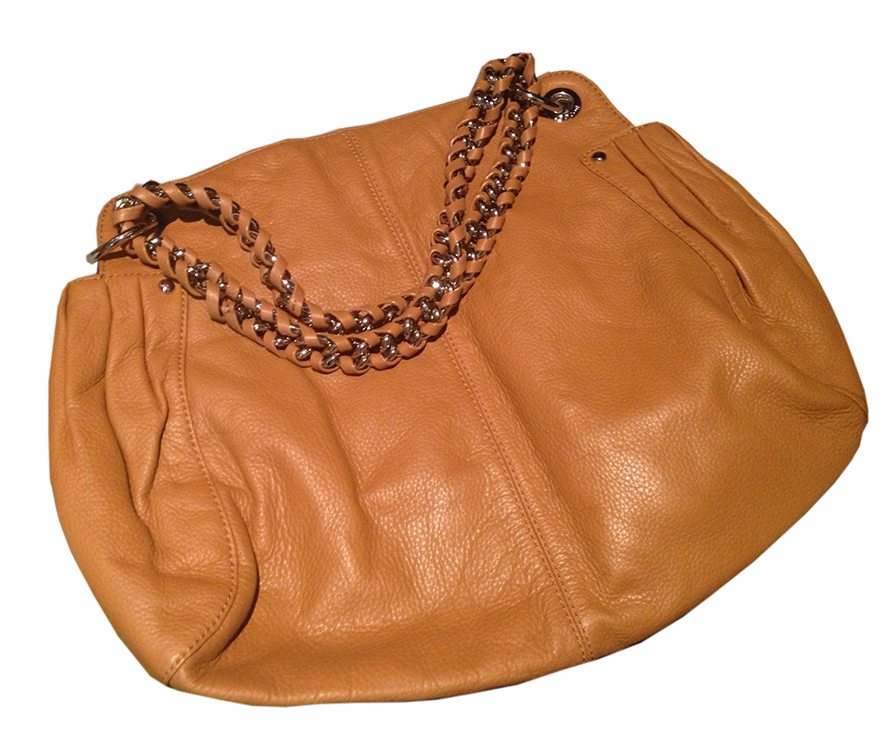 Oroton is one of Australia's leading luxury fashion designers, and the brand is perhaps most famous for the bags. Oroton bags include handbags, clutches, and wallets, many of which are matching. Buyers looking for an Oroton bag should carefully consider their options, their budget, and their personal style, as Oroton bags are an investment. Buyers can also choose between buying new or looking for second-hand Oroton bags on sites like eBay before spending their money. Practical style is important for anyone who would like to use the bag every day, but other buyers can choose the handbag simply because they like it. An overview of Orton bag types and characteristics can help buyers make an informed purchase.
Orton Bag Style
Choosing an Oroton bag should involve research and care, especially for women who are purchasing a staple wardrobe item or a splurge piece. Oroton manufactures a number of different bags in a great deal of different styles and colours. Women can choose a bag based on its physical appearance, size, and practicality.
Orton Bag Types
The type of bag is usually the first thing most women should think about. Bags come in many shapes and sizes and most have a name and category for similar styles. For example, a tote is one of the most popular types of women's bag because it is a medium size structured bag that women can wear on the arm or over the shoulder. A shopper is usually the first choice of women looking for a lot of space, while a hobo bag is the choice of women looking for space and a relaxed style. The following include the basic styles Oroton sells and a brief description of each style.
| | |
| --- | --- |
| Bag Style | Description |
| | Large bag with no reinforced seaming |
| | Large square bag with handles at the top |
| Flap-Over or Portfolio | A bag with a closing flap |
| Tote | A smaller version of the shopper |
| | Very small bag or large wallet |
Most women should choose a handbag type based on the bag's size and structure. Many women choose a tote because it is very practical and often attractive, while other women need a bag with more or less room than a tote has. One consideration is that very large bags are heavy, and very small bags, such as a clutch, are mostly for evening use as they can only hold essentials. When choosing a bag, buyers should consider how many items they need to carry and the weight the bag should hold.
Orton Bag Colour
Oroton mostly produces bags in the season's most popular fashionable colours, which means that the bags Orton issues vary by colour every season, but usually include a range of blues, greens, blacks, and beiges. Most women can choose a bag depending on whether they are looking for a basic bag to go with everything, or something to match a particular outfit or pair of shoes. Women who dress in basic clothing can get away with bright colourful bags, while women who usually dress in bright clothing may want a beige, black, or other neutral tone bag.
Orton Bag Material
While Oroton uses leather to make most bags, the manufacturer sometimes uses other materials. Many buyers are happy with leather as it is durable, attractive, and chic. Those who prefer not to have a leather handbag can look for some of Oroton's other materials including patent, canvas, and denim.
Orton Bag Budget
Setting a budget can be important, especially for those who are splurging on a quality bag to wear every day. Most women can decide how much they can afford to spend and then either shop within that price range in an Oroton store, or look for deals on Oroton bags to save money. Buyers may want to consider the following options when looking for an affordable Oroton bag.
Used Orton Bags
There are plenty of used Oroton handbags on the market, especially on eBay. A second-hand bag can have a very low price, and in fact, the average sale price for a used bag can be as much as 75 per cent lower than the price of the same bag when new. However, gently used bags always sell for more, and slightly damaged bags sell for much less. Buyers should pay attention to the exact condition because most bags come as-is.
Orton Bags with Defects
Another way to save money on a new handbag is to look for seconds . These are bags that have slight factory defects, which may or may not be visible. Buyers who do not mind slight defects can usually save a great deal of money by purchasing seconds.
How to Buy an Orton Bag on eBay
Buying an Oroton bag on eBay is simple. Consider the style, the practicality, and the size of the bag because these factors affect the bag's usability over time. To find an Orton bag, locate the eBay search bar and type keywords like 'Orton handbag' or 'Orton tote'. When you find a bag that you want to buy, check its price and condition. Visiting the eBay Deals section, which lists the best prices of the day, might help you find special offers on Orton bags. On eBay, you can choose to buy an Oroton bag new, a second-hand bag , or even as a factory second to save money.