Oscillate Spinning Fishing Reel Buying Guide
Here at Direct-shop-auctions we have a lot of experience selling fishing tackle. As one of the largest eBay retailers of fishing products in the world, we have excellent knowledge of Oscillate fishing reels. Directshop is the exclusive importer and distributor of Oscillate fishing reels in Australia.
The Oscillate brand and product
Oscillate reels and rods (like most of today's fishing reels and rods) are manufactured in China. They are manufactured with fine tolerances by a premium manufacturer.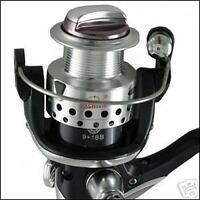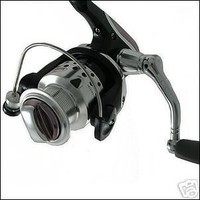 Specifications of Oscillate fishing reels
Oscillate reels are designed with quality components, and designed to last. The important features to look for (and often set this product apart from the rest) are :
Stainless steel ball bearings
Each reel is fitted with stainless steel ball bearings. Stainless bearings offer better rust resistance than plain steel bearings. This is an important feature to look for when buying reels on eBay.
A high number of ball bearings
Typically 10 bearings per reel are fitted to all transmission points. This ensures that any points on the reel that are under stress when in use will be smoother in operation and last longer.
Instant anti reverse
Much more effective than multistop anti reverse (a cheaper manufacturing option).
Computer balanced rotor system
Each reel is CAD designed on sophisticated computer systems and computer balanced for smooth operation. This is a must have for your reel.
High Quality Bail Trip
Using a quality bail trip mechanism enabling easy trip of the bail arm after casting, Oscillate reels are ideal for repeated lure and soft plastics casting.
Types of Oscillate spinning reels
Oscillate reels are front drag spinning reels.
Reels come in a variety of sizes, from 10 series to 60 series.
10 series - 30 series reels
10,20 and 30 series reels are designed for freshwater use and light saltwater fishing. They are ideal for fish species such as trout, whiting, bream, bass, flathead, carp and more.
40 series - 50 series reels
These reels are slightly larger in size and are predominantly useful for larger freshwater fish/fishing and for saltwater fishing (from boat or pier).
60 series reels
These reels are best suited for boat, surf or rock fishing. Typical fish caught with these reels are snapper, mulloway, kingfish and other fighting fish.
About us
Direct-shop-auctions is a 'Powerseller' and a member of eBay Australia's 'Top Seller' program. We are also a member of PESA (Professional eBay Seller's Alliance) which represents over 900 sellers, $1USD billion a year in sales and over 70 million transactions on eBay.
Direct-shop-autcions is an experienced retailer of fishing spinning reels.