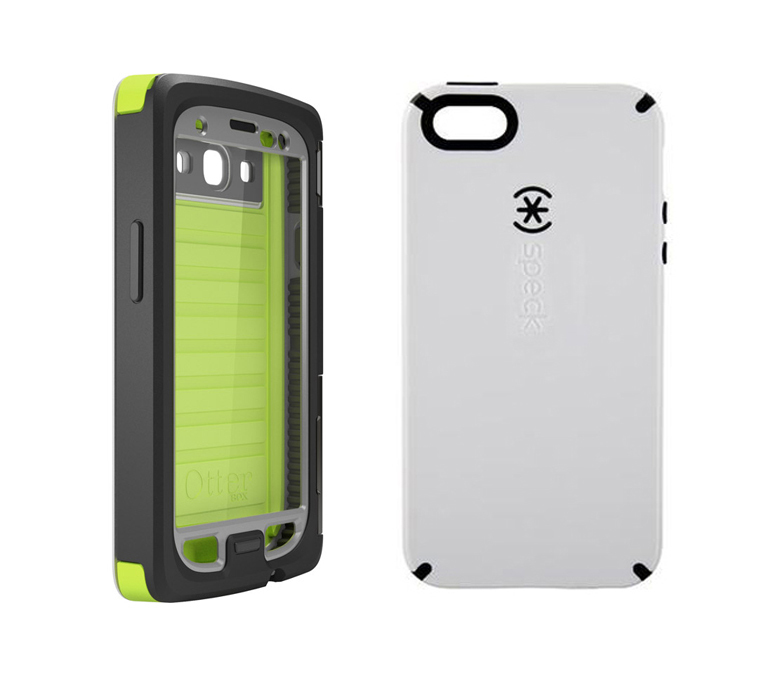 What with both phones and tablets being made from increasingly more fragile and lightweight materials, companies have been finding ways of protecting devices in subtle but effective ways.
Both Otterbox and Speck are two of the market leaders when it comes to designing and manufacturing cases and protectors for phones and tablets. This guide is written with the aim of helping those choose the most suitable case or protector from either Otterbox or Speck.
What to Look for in an Otterbox or Speck Case
Before comparing the two phone case and protector manufacturers, it is vital to decide what is required from the case itself. There are also a number of other factors that need to be thought about before beginning the search for an Otterbox or Speck case.
The factors include the following:
· Device Dimensions: One needs to find out the dimensions of the phone before looking for a case. This can help with deciding which case is best for the phone, as well as helping with the purchase of a case that allows the necessary access to certain features of the device, including the screen and the charger slot. The dimensions of a device can be found on the manufacturer's website, and are usually measured in millimetres or inches.
· Device Model: One also needs to match the device case up with the model of the device in question. After finding out the brand, it is important to find out the model of the device as both Otterbox and Speck make cases for specific models and tend to steer away from manufacturing generic style cases.
· Case Requirements: Some device case buyers only require minimal protection for their device, whereas others desire a case that is fully protective. Decide what level of protection is necessary for the device in question and base the purchase on this. Both Otterbox and Speck provide cases with different levels of protection to cater for this decision.
Otterbox vs. Speck Compared
The best way to decide between an Otterbox and Speck case is by comparing the two brands and what is available from them. Below is a table that compares the two brands and what they offer in terms of device cases and protection:
About

Otterbox

Speck

Devices

Otterbox have cases for Amazon, LG, Apple, Motorola, Samsung, Blackberry, Nokia, Google, and HTC devices.

Their range includes cases for iPad, Kindles, Nexus 4, and Galaxy Note tablets.

Speck provides cases for all Apple devices, including MacBook's and iPad.

They also cater for HTC, Motorola, Nokia, and Samsung phones. Their tablet case range includes Amazon, Nook, Google, and Samsung.

Types of Case

Otterbox have a wide range of cases available.

They offer shell cases, shield cases, waterproof cases, grip cases, and wallet cases.

They have a series for each type of case; The Armor Series, Commuter Series, Defender Series, Reflex Series, Prefix Series, Clearly Protected Series, and the Pursuit Series.

Speck also have a wide variety in case styles.

These include, shell cases, skins, flip cases, card cases, Laptop shells, and shield cases.

Waterproof

Otterbox have a wide range of waterproof cases for smartphones and tablets.

Speck do not have waterproof cases.

Dust Proof

The Otterbox Armor range ensure that 100% of dust and debris keeps away from the device.

Otterbox have a large range of specially designed dust proof cases.

Whilst Speck do not specifically set out to design cases that are dust free, a lot of their cases ensure that the least amount of dust affect the device as possible.

Screen Protector

A lot of the device cases and protectors designed by Otterbox have screen protectors integrated into their design.

Otterbox also has their own range of specially designed film screen protectors and bubbles.

Speck have specially designed screen protectors for all of these brands:

-Apple

-Amazon Kindle

-Google

-Samsung

-Nook

Affordability

The most affordable screen protector is $32, whereas the most highly priced case is $170.

The most affordable screen protector from Speck is around $15, with the most highly priced case costing $68.
How to Buy an Otterbox or Speck Case on eBay
Mobile Phone and Tablet cases are one of the most popularly purchased items on eBay. Therefore, there is plenty to choose from:
· To find an Otterbox or Speck case on the site, firstly visit eBay Deals to find out if there are any bargains that the eBay staff may have picked out.
· Alternatively, one can head to the Electronics category of eBay's main site, before selecting theMobile Phones and Accessories link. Once here, one should then select the Cases, Covers, and Skins filter tab and use the keyword tool bar to search for the Otterbox or speck case of choice.
· There are specialist eBay retailers who sell these products but there are also individual sellers, too. Be sure to check their feedback rating and read through comments to see how other buyers have rated them before placing a Bid or using the Buy It Now option.
· If there are any queries regarding the case or postage conditions, one can always contact the seller directly.
· Finally, remember to read eBay and PayPal's terms and conditions before finalising a transaction.
Conclusion
When comparing the two, it is worth noting that whilst the quality of Otterbox products are at the top end of the market, they are also at the top of end of the price scale. On the other hand, whilst Speck provides mid-range quality products, they are considerably more affordable to the average consumer.
Ultimately, when buying from either company from eBay, one will be purchasing a case in a safe and affordable environment.