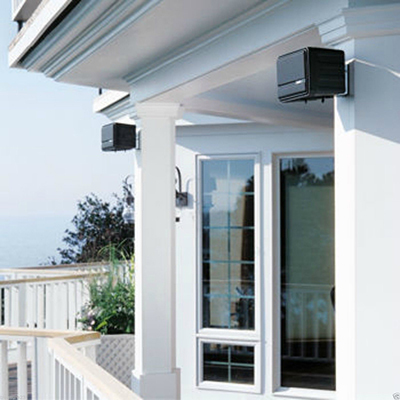 In summertime, the garden can be the ultimate place to relax and socialise. Although most small MP3 players and iPods can connect to small, portable speaker sets, nothing beats the sound quality of larger outdoor speakers. Where previously one had to drag the home stereo system outside in order to get quality sound, only to rush it back indoors at the first sign of rain, outdoor speakers now exist that are designed to withstand the elements.

Waterproof vs. Weatherproof Outdoor Speakers
Although all outdoor speakers are designed to withstand the elements to some degree, not all are equally tough. Waterproof speakers will be able to withstand some moisture, but are not meant to be left out in the sun and rain without cover. Weatherproof speakers, on the other hand, are made from materials that can withstand temperature changes, extreme temperatures and heavy rains.
Outdoor Speaker Designs
Outdoors speakers come in various designs, but here are three popular options.
Mounted Speakers
Mounted speakers allow for better sound projection. Many mounted speakers are not always weatherproof, which is why they need to be protected from extreme temperatures and water.
Camouflage Speakers
Camouflage speakers are designed to blend in with the environment and come in different shades of green and brown, while others have the shape and colour of rocks. Most camouflage speakers are generally weatherproof.
Decorative Speakers
In contrast with camouflage speakers, decorative speakers are meant to stand out. They are often brightly coloured and may look like planters, garden frogs, ladybirds or other common garden decorations. Some planter speakers can actually have plants planted in them without affecting the sound.

Outdoor Speaker Types
When choosing an outdoor speaker, it's important to consider how it will be used and the space in which it will be used.
Stereo Speakers
Stereo speakers are designed to enhance the sound experience when a listener is at a specific spot in between the two speakers. Stereo can work well in a smaller garden where most of the activity is concentrated around a certain area, such as the pool or barbecue.
Mono Speakers
In large gardens where people move around, mono speakers are sufficient since people will often not be in the right position to hear a stereo effect.
Omnidirectional Speakers
Omnidirectional outdoor speakers are designed to transmit sounds in a 360 degree angle around the speakers, producing a unique sound experience. This type of sound is great for outdoor use, where it can be placed in a central spot and people from all around can enjoy the music, even when moving through the garden.
Wireless Speakers
Wireless speakers are popular for outdoor use as wires can be tricky to manage in an outdoor setting. They usually work with infrared or Bluetooth and will receive signals from a music player or stereo in order to transmit the sound. Although wireless speakers don't need to be connected to a stereo system, they do require a power source, which may require the use of wires.

Factors that Affect Outdoor Sound Quality
Speaker height, the size of the outdoor space, and distance are some factors that may affect the sound quality of the speakers.
Speaker Height
Outdoor speakers that are mounted above the ground usually provide better sound as they are closer to ear level and the sound does not get absorbed by shrubs, plants and grass that easily. When they are mounted too high, however, the sound tends to thin out.
Outdoor Area Size
To cover a larger area, more powerful speakers will be required. However, in larger outdoor spaces simply adding more speakers rather than more powerful ones is often a better option as sound clarity gets sacrificed over distance, even when playing through a more powerful speaker.
Distance between Speakers
Each speaker has a specific reach. If users move out of reach, the sound will thin out.
Garden Features
Features such as trees, shrubs, walls and outdoor structures can absorb sounds and play a role in the overall sound experience. Walls can often be used to one's advantage to improve the bass output by putting a speaker right in front of a wall, facing the opposite way.

Buying Outdoor Speakers on eBay
A selection of outdoor speakers is available from eBay sellers at very competitive prices. Some outdoor speakers may even be featured on the eBay Deals page every now and again. Each eBay page features a search bar at the top, which can be used to easily find a selection by typing a search term such as "outdoor speakers." Browse through the results and further refine the search by using the filters from the left menu bar. Be sure to have a look at the seller's rating and reviews from other buyers before making the purchase.