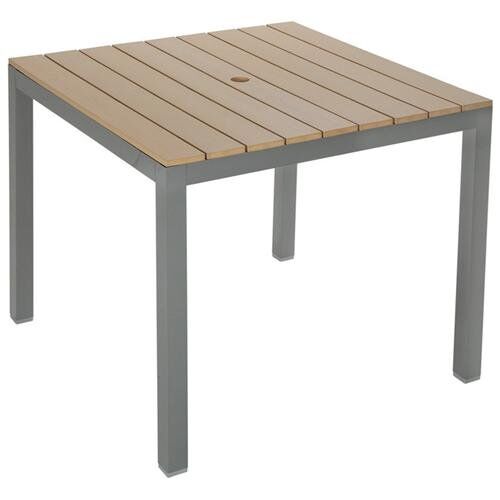 Outdoor tables are great additions to backyards, patios, or pool areas. Whether consumers are seeking small tables to put around the pool for drinks and snacks or large tables for entertaining, there are many types of outdoor tables available on eBay to suit every buyer's purpose. Buyers may want to shop for tables on a budget and seek tables made of certain materials, or find an entire set of matching chairs and a table to create a comfortable area outdoors.
Outdoor tables can raise consumer satisfaction with outdoor areas, and provide more pleasure when sitting outside. Buyers can sit outside with a drink and a book and enjoy a sunny morning, or have cocktails sitting by the pool with the aid of outdoor tables.
Types of Outdoor Tables
When it comes to purchasing outdoor tables, buyers are likely to see many sizes and designs as well as tables made from a variety of materials. Consumers may want to match tables to existing chairs, or buy an entire set that includes the table as well as the chairs.
Small Tables/Garden Tables
Small tables are roughly the size of indoor end tables. These tables are perfect next to lounge chairs and easily hold a meal, drink, book, MP3 player, or sunscreen. They are also useful for decorative purposes and hold a potted plant, small fountain, or other outdoor decorative items.
A popular material for garden tables is wrought iron, because it is sturdy and durable. Wooden and glass topped tables are also commonly seen, as well as tables with wicker and rattan accents.
Dining Tables/Large Tables
Large outdoor tables are generally useful for dining and entertaining. These come in a variety of sizes and seat up to eight people. The tables are created from various materials such as wood or aluminium. Outdoor dining tables come in a variety of shapes, such as round, square, and rectangular, and consumers should purchase tables proportionate to the space available, as well as the usefulness of the tables.
Buyers who entertain frequently and enjoy eating meals outside with friends may need larger tables with more chairs. Vintage tables add a shabby touch to the outdoors and spruce up patios or backyards.
Outdoor Table Materials
When it comes to outdoor tables, there are several main types of materials used. There are a few factors that buyers must weigh when deciding on material. Some materials are more weather resistant than others, some are more affordable, some may be easier to store, and some are lighter and more portable.
Aluminium
Aluminium tables are a bit more costly than other materials. However, they are the most weather-resistant tables available. Aluminium does not rust when it gets wet, and it is available in many colours. Aluminium tables do not need much care; using simple soap and water cleans them. They are also lightweight and easy to move around if needed.
Aluminium also looks stylish and elegant, and is quite durable. Aluminium tables are available in many sizes and shapes, and can be painted bright colours easily. Aluminium is also available in different types of finishes, including wood finishes.
Glass
Outdoor tables with glass tops are made with heavy glass that does not break or easily crack. Edges are generally bevelled for safety, and the rest of the table is made of aluminium, iron, or metal. For consumers purchasing tables with glass tops, they need to ensure that the glass is tempered.
Glass tops require little care, and although most people think of glass as fragile, glass tables that are meant for outdoor use are actually quite durable and weather resistant. Over time, the glass may scratch, but glass tables typically last for many years as long as they are cared for properly.
Rattan
Rattan is a popular material for outdoor furniture, including tables. The casual, lightweight texture of rattan is affordable, lightweight, and durable, despite how light it is. Rattan tables complement many types of chairs, and rattan also comes in a variety of colours such as tan, brown, and white. Many rattan tables have a fitted piece of glass over the rattan to create a smooth surface that makes the tables functional.
Wood
Wood is a commonly seen material when it comes to outdoor tables. Wood is a good choice because there are many types to choose from, though teak is the most durable and holds up well over time. Wood is sturdy construction that is meant to last. The only downside to wood is that it sometimes fades in the sun, so buyers should cover it when not in use and protect it from direct sunlight.
Wood tables can be cared for with wood oil and soap and water. For buyers who have issues with insects, cedar is also a good choice, because it is naturally resistant to insects.
Outdoor Folding/Portable Tables
For consumers who do not use outdoor tables frequently, portable tables are an easy option. Portable outdoor tables are generally made of plastic and are easy to store, as they fold completely flat. These are available in various sizes and are easily taken on picnics or camping trips. Some portable tables are made of aluminium, and they are affordable and great to have on hand for occasions that call for extra seating space outside or impromptu al fresco meals.
Outdoor Tables and Chair Sets
Consumers who are interested in tables as well as matching chairs can pick up sets that include everything needed to create an enjoyable outdoor seating area. These sets are also made with the same materials as tables, with chairs that are usually created with matching materials, such as a matching wood tables and wood chairs, or rattan tables with rattan chairs that include upholstered cushions for added comfort. Whether two people or 10 are seated at the tables, there are various types of sets that range in price according to the material and the design of the sets.
Picking the Right Outdoor Tables
Buying outdoor tables does not have to be a hassle. Setting a budget is the first step, because prices of tables do vary widely considering the size and material of the tables. Space is another large consideration, because buyers want to ensure that the tables fit in the designated spaces, along with room for chairs if needed.
| | | | |
| --- | --- | --- | --- |
| Factors to Consider | Types of Tables | Table Materials | Table Accessories |
| Space available | End tables | Steel/iron | Chairs, cushions |
| Budget | Dining tables | Wood | |
| Material preference | Folding tables | Rattan/wicker | Tablecloth, placemats |
Outdoor tables are useful for so many purposes. They make the warm weather even more enjoyable when consumers are able to eat outside, host parties or gatherings, or simply have a spot to set the sunscreen next to the pool.
How to Buy Outdoor Tables on eBay
Outdoor tables which are purely decorative or functional add something to a backyard area, patio, pool, or porch. Whether your table is used to hold your water while you dive into the pool, or host a dinner party for eight, there are great deals on outdoor tables that you can find on eBay. Navigate to outdoor furniture and select the option for tables to narrow down your choices. Then you can shop by price range, table material, or table colour. Purchase a used table if you are on a tight budget.
If you do not want to deal with shipping, contact the seller by clicking "Ask a Question" to discuss meeting the seller in person. Look for excellent feedback before you settle on a seller, and leave your own feedback once you have completed your transaction.
Conclusion
Along with outdoor tables, or the addition of outdoor chairs or other furniture, buyers may want to consider a couple of accessories, such as outdoor furniture covers, to protect furniture when it is not in use, especially from the UV rays of the sun. Tables may or may not have a hole for umbrellas, but umbrellas can still be used to provide shade, which protects the users from the sun as well as the tables.
Outdoor tables are not only convenient but look nice, too, especially when a plant, flowers, or other decorations are placed on them. There are many options for style when it comes to using outdoor tables, and using them for their intended purpose is simply a bonus when consumers purchase outdoor tables.