Shopping for home theater systems can be a huge challenge. Whether you are a begineer or looking to fine-tune your existing system, there are thousands of home theater options to consider.
The first Question comes in mind while looking to make your own home theater is "What do i need for a home theater"?
What do i need for a home theater?
You'll need to start with a TV large enough to comfortably view movies in a widescreen aspect ratio. How large TV you buy is determined mainly by your preference and budget. A 27" screen or greater will allow you to see the smallest details from a comfortable viewing distance.
You'll also need to decide and play back a surround sound Format. There are many formats, but the commonly used today is Dolby Digital. Almost every DVD sold today is encoded in the Dolby Digital Surround format. To properly enjoy Dolby Digital you'll require:
Speakers - Your home theater speaker system is the most important factor in the sound quality of your home theater. It stands to reason that you should spend the most time examining and auditioning home theater speaker systems. The best advice for a beginner is to choose a speaker system you like best and build the rest of your home theater audio system around it.

A complete set of six home theater speakers includes:
Front left and right also called, fronts or mains,
Surround left and right, also called rears
Central Speaker
Subwoofer


Audio/Video Receiver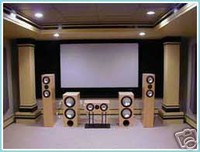 Earlier Surround sound formats were compatible with two-channel playback devices such as Hi-Fi stereo VCRs or Laser Disc players. Newer A/V receivers are backward-compatible to earlier surround formats, so the VCR will perform fine.
If you're already happy with an existing stereo system in your home, you might be able to upgrade it to decode surround formats with separate components. This method is called separates. Do not consider separates a low-budget option even if you already have a good two-channel stereo to 5.1 channels, plus decode the new format , will easily exceed the price of single A/V receiver that will perform all those task.
By buying all these items you'll be able to build your own home theater...