Thought you could buy a Ped Egg on eBay to avoid high prices? BEWARE: you could be falling for an eBay scam!
Early this year, after failing to get one for Christmas, I decided to try to buy a Ped Egg cheap on eBay. I found a few for sale for about $20-$25 each (RRP for two from Global Shop Direct is $59.95 plus $14.95 P&H). Looking at the sellers' ratings, I went with the one that had the most feedback points (not the highest percentage) because their item was selling the soonest. This was a Sunday night.
Using the Buy It Now function, I paid for the item immediately, expecting it to be put in the post the next day so it could be received within a couple of days.
The next day (Monday) I checked My eBay and noticed that the seller was no longer registered with eBay. This meant I couldn't contact the seller or even check the listing to review Terms & Conditions etc. I contacted eBay about this and they told me to email the seller via their details in PayPal, which I did.
The seller returned my email and said he was having supply issues and that I would get it the following week. I was automatically sceptical (how can someone get away with selling stock they don't have?), but decided to wait anyway.
The following day I received a group email to 358 people from the seller, saying that we should all be patient and wait a few more weeks and NOT to raise a PayPal dispute. One clever recipient of this email "Replied All" (except to the seller) and asked whether anyone had actually received their Ped Egg and how long people had been waiting.
What followed was a barrage of emails from unhappy customers - some had been waiting patiently for over a month not knowing they were not the only one in that situation. The 358 people on that email alone had given $8950 to this fraudster with still no sign of a product.
A couple of people HAD received a Ped Egg - they all said they were cheap fakes, one person even reported receiving a USED cheap fake! These items were advertised as authentic Ped Eggs "As seen on TV".
Almost every person who replied to the email raised a PayPal dispute and/or claim immediately. The seller never responded to the claims. I got my money back and I can only assume everyone else did too.
This was a good result for me, but I feel sorry for the poor people who either didn't pay by PayPal or were sucked in long enough that they waited too long before making a claim.
So, some tips:
Always check a seller's rating before making up your mind - not just the score but also the percentage
For stores, check to see if there is any feedback about the exact same item that you are looking to buy
Check the Terms & Conditions of the listing before bidding, this might give you a clue as to how long the product should take to arrive
If in doubt contact the seller before bidding to ask if it is an authentic product and whether or not they have them in stock right now
Try to avoid eBay stores who don't include an address, phone number or email address in their listing
Be aware of sellers that are located in one area but say the item is located somewhere vastly different
Pay by PayPal to ensure you can get your money back if something goes wrong
If you do raise a dispute/claim, don't wait too long as you only have a limited time to do so - don't let the seller intimidate you or try to make you delay this process
Don't refrain from raising a PayPal dispute just because you think it is a small amount of money and not worth the effort - these small amounts add up and dishonest sellers can make a tidy sum from these scams - don't allow them to keep doing it!
I say all these things with the intention of protecting buyers from dishonest sellers and fraudsters. There are of course many good sellers out there and I'm sure it is possible to buy a proper Ped Egg on eBay somewhere. Please be fair and reasonable when dealing with all sellers, try to see their point of view and communicate pleasantly. If that fails, then take action.
In other news, I decided to purchase a legitimate Ped Egg from Global Shop Direct. It arrived quickly but to be honest I was still a little disappointed. The plastic was much thinner and lighter than I expected and the metal file didn't seem to be very high quality either (no better than a cheese grater really). Despite what the ad says about the filings staying secure inside the egg, they actually do fall out all over the place when you put it down or hold it at even slightly the wrong angle.
I did receive two for my money, plus a "Ped Shaper" tool however unlike described in the ads, these are not free gifts that you can give to someone else - all three items are packaged in a flimsy plastic tray contained in a single box that cannot be separated - it would look completely tacky to try to give one as a gift! (See image)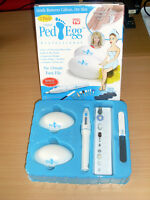 The genuine Ped Egg does work, however, and my feet are looking the best they have in years. No doubt I could have got the same result with some persistance and a pumice stone, but hey - I spent the money so I might as well get some use out of it!
I hope you have found this information interesting and useful. If so, please ensure you vote YES below so that more people will be able to read this advice. You are welcome to forward a link to this guide to your friends.
Thank you for reading!