If you are thinking about buying a Ped Egg, either on eBay or through Global Shop Direct, this guide offers a good critique of how well it works (as well as its flaws). Note: if you have already read my guide on eBay Ped Egg scams, you will have already read most of this information... if this is the case, scroll down to the summary "Pros and Cons" as you may find it useful.
I recently purchased a Ped Egg from Global Shop Direct. It arrived in about two weeks but to be honest I was still a little disappointed. The plastic was much thinner and lighter than I expected and the metal file didn't seem to be very high quality either (no better than a cheese grater really). Despite what the ad says about the filings staying secure inside the egg, they actually do fall out all over the place when you put it down or hold it at even slightly the wrong angle.
I did receive two for my money, plus a "Ped Shaper" tool however unlike described in the ads, these are not free gifts that you can give to someone else - all three items are packaged in a flimsy plastic tray contained in a single box that cannot be separated - it would look completely tacky to try to give one as a gift! (See image)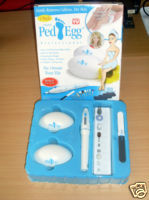 The genuine Ped Egg does work, however, and my feet are looking the best they have in years. No doubt I could have got the same result with some persistance and a pumice stone, but hey - I spent the money so I might as well get some use out of it!
Pros:
It works, with some elbow grease
Light
Ergonomic
Replacement parts are available
You get two Ped Eggs and a Ped Shaper
Global Shop Direct is reputable
Global Shop Direct offers a money back guarantee (minus P&H)
It motivates you to give your feet a little TLC (or tough love!)
Cons:
Despite advertising, the filings do fall out as you use it
Packaging is flimsy and not suitable for gift giving (unless you give the whole pack)
Takes a lot of work to get a result
One month in and the file is already blunt (perhaps used twice a week?)
Replacement parts are expensive
The Ped Shaper has very limited instructions and can be dangerous!
You could probably get the same result from a cheap file or pumice stone
To be honest, buying the Ped Egg was a bit of a waste of money but I'm not going to return it because half of the expense was in P & H (or will be by the time I send it back). I should have listened to my mum!
The biggest recommendation I can make is to invest in some heel balm (Eulactol is the best) and rub it all over your feet before bed every night. If your feet are very rough, use a pumice stone followed by heel balm, then put some socks on. In the morning, only put heel balm on if you are going to wear socks and shoes as it can be quite slippery if you wear open toed shoes (in this case, just slap on some moisturiser). Keep the routine up for a week or two and then you can cut back to giving your feet a treatment once or twice a week for maintenance.
I hope you have found this information interesting and useful. If so, please ensure you vote YES below so that more people will be able to read this advice. You are welcome to forward a link to this guide to your friends.
Thank you for reading!