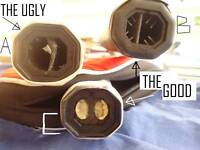 Wilson Racquets:
Butt Cap A is a fake K six-one tour 90. No code on this particular fake. Also has wrong weight, balance and length.
Butt Cap B is a genuine K Brave. Inside a K sting, K62 is the same as this. They also have the 3 letter code.
Butt Cap C is a genuine K six-one 95. Also has the 3 letter code.