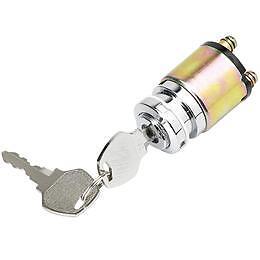 Also known as mini motos or pocket bikes, pit bikes have become popular with riders of all ages. Pit bike racing is a fun and inexpensive pastime. These small bikes are very easy to handle, and they can reach fairly high speeds. As with any other type of motorcycle, there are moments when the pit bike owner needs to replace or upgrade some of the parts. Pit key ignition switches are parts that often needs changing. Buyers should learn more about how these switches work and when they need replacement in order to make sure a pit bike is in good condition whenever the riders feel like going for a spin.
What to Look For in a Pit Key Ignition Switch
The main function of an ignition switch is to activate the main electrical system of a car, motorcycle, or scooter. A pit key ignition system provides power to the ignition system components. In order to activate the ignition, the rider needs to insert a key that unlocks the switch mechanism. A key ignition switch is an important component of any vehicle and usually it is the first thing one has to check when the vehicle fails to start.
Pit Bike Brand and Model
When shopping for a pit key ignition switch, bike owners should pay attention to a few things including the brand and model of their pit bike. Not all pit key ignition switches go with any type of bike, so buyers should make sure the replacement or upgrade they buy is a good fit for their particular vehicle.
Pit Bike Wiring
Next, buyers should consider the wiring on their bike. Different pit key ignition switches come with various wire positions, so it would be a good idea to check this prior to making a purchase. The good news is that it is easy to change the wiring on a pit key ignition switch for anyone with basic electronic skills.
Types of Pit Key Ignition Switches
Most pit key ignition switches are similar, but there are some differences bike owners should consider when shopping for this kind of bike parts. The number of keys may vary from one model to another, as some pit key ignition switches come with one key, whereas others come with up to four keys. Having multiple keys may come in handy in case owners misplace a key or want to share their pit bike with family members.
The majority of pit key ignition switches feature a simple two-position switch that connects with a four-pin block connector. Other models connect by five pins and feature five wires. Buyers should pay attention to this aspect by having a look at the original key ignition switch before buying a new one.
Ignition Switch Cable Length
The length of the cable may vary from one model to another, so this is another thing to watch out for when shopping for pit key ignition switches. The length and width of the barrel often varies as well, so buyers should make sure the pit key ignition key they are looking to buy is a good fit for their vehicle.
Tips for Installing a Pit Key Ignition Switch on a Pit Bike
Installing a pit key ignition switch is simple. Vehicle owners can do this without the help of a professional. All they have to do is remove the old key ignition switch with the help of a screwdriver and access the ignition wire terminals on the back of the switch. These wires have different colours and bike owners should clip the wires of the new ignition switch correctly by following the colour code. Users should make sure the ignition key is in the 'off' position when performing the installation. With a small screwdriver, users should then secure the wires to the connection terminals located at the back of the ignition switch. When everything is ready, they can turn the ignition key to the 'on' position. Referring to the owner's manual is a good idea, especially for beginners.
Tips for Buying a Used Pit Key Ignition Switch
Buyers who are looking to save some money when shopping for a pit key ignition switch can opt for a used item instead of a brand new one. By purchasing a used ignition switch, bike owners can get a high-quality item at a fraction of the price of a new switch. Buyers should look for any faults or scratches before parting with their money. Those who have experience in repairing various motorcycle parts may also look for faulty items they can repair, because they can sometimes find these at very good prices.
How to Buy a Pit Ignition Switch on eBay
Shopping for pit key ignition switch on eBay is simple. All you need to do is type the words ' pit key ignition switch' into the search bar of the website and look at the results. You can speed up the search even more by refining the results according to your preferences, budget, and seller location. Read the product description carefully, because this is the only way to make sure the key ignition switch you buy is compatible with your vehicle. You might also want to check eBay Deals to see if there is any special offer on pit ignition switches. With a new ignition switch, you are ready to have fun with your pit bike again.