BEWARE OF HIGH QUALITY FAKE NIKE SOCCEROOS JERSEYS ON EBAY!
Yes, it's lengthy, but please read it all - ten minutes can save you more time and money from getting wasted.
Update: to combat against this specific seller, which I think he/she has read my guide, he/she has updated/removed/amended the listings to what I originally wrote here that were clues leading to fake jerseys. I've now updated this guide against the response.
Recently I bought a Socceroos jersey on eBay - unfortunately not the normal checkout way, so I couldn't leave a feedback on his/her account. I thought the jersey was real, and even the seller has claimed so repeatedly. The seller even posted detailed pictures of the jersey (probably a real jersey) and even stated that he/she would refund if I was "unsatisfied". But hey, once they have your money they're gone! At the end of the day, I did get my money back, but the seller was so unethical that he/she demanded the postage cannot be refunded. I ended up paying twice the postage to send the fake shirt back.
During the return conversation, the seller
did not mention that the jersey was fake, nor did he/she defend that it was real

. A genuine seller will not have this sort of response. All he/she did was offered a refund, less his/her delivery postage. I eventually complained to the seller in regards to his/her business ethics after receiving my money, and of course, he/she didn't respond.


I could sue or take legal action on this person since I have his/her name and bank account details (and address), but I guess it will be a lengthy process. I have reported his items to eBay but unfortunately, they said that I did not checkout the "normal way" so they aren't able to pull this seller off.

The seller claims that $2-3 must be added to the shipping fee "to cover our cost". What cost does he/she have to cover anyway? Prepaid satchels 500g cost $5.70 each at Australia Post. When bought in bulk it is another 5% off.

I've been observing this seller's jerseys, and there are a lot of sizes available! It's been selling like hotcakes and bids close in the high $40s, and sometimes even in the $60s. The seller didn't disclose his address on the shipping package, too. This seller, ironically, has 100% positive feedback as so many people have not realised it yet.


I found out when it was fake when I compared it to a $130 jersey at AMart All Sports, and a jersey that I eventually bought from Rebel Sports for $100. The quality was way off (the fake), though it looks like the real deal
AND CAN FOOL BUYERS FOR JUST ENOUGH TIME TO LEAVE A POSITIVE FEEDBACK

. If you have realised that you may have a fake, you can always follow up your feedback here - http://feedback.ebay.com/ws/BayISAPI.dll?ReviewFeedbackLeft


Ask the seller for detailed pictures. Do not bid under any circumstances if the pictures are blurry, low resolution, or the seller doesn't even bother. The seller I was referring to above has posted some detailed pictures on the auction page --
BUT

as I have found out they were copied directly from another person's auction page and this explains the reason the pictures are in low resolution, even though they're close ups.
Please also note that the sellers may claim to have
TAGS INSIDE SHIRT and SERIAL NUMBERS

. Ask the seller to provide you pictures of the tags and numbers, and visit your local Rebel Sport or AMart All Sports and COMPARE. Don't be fooled by sellers providing serial numbers. Unfortunately the fakes manufacturers may also rip off these authenticity measures.
Retail prices for
current

jerseys are $129.90, $129.95 or $130.00.

THERE IS NO OTHER PRICE, NO MATTER WHAT THE SELLER CLAIMS

. I've been to at least fifteen different retailers, in Brisbane, Sydney and Melbourne to investigate the prices - including the big ones such as Rebel Sport and AMart All Sports, and smaller, specialised retail shops that just sells soccer and footy gear, and even on the official FFA and Nike websites. You may raise your suspicion if he/she states a different retail price. This is particularly true when you think that Rebel Sport guarantees a 10% off competitor's retail price if you found anyone with prices lower than theirs.
Always pay with PayPal. This way you get buyers protection.
IGNORE

what the seller says if he/she prefers

bank transfer

. If you don't have a PayPal account, it is not hard to register one, just for that extra level of fraud prevention.
Feedback.

Guilty-conscience sellers, and as I have found out, not only this particular seller, but other sellers overseas too, will say that in case anything goes wrong, please don't leave negative or neutral feedback, but rather they'll sort out the problem and encourage you to leave a positive feedbck. When they offer to sort the problem out, they usually offer you a refund should you find the shirt is fake, but that

generally takes away your intention to leave a negative or neutral feedback.



Note: to see high resolution pictures, please visit this url (copy & paste this link):
http://s732.photobucket.com/albums/ww328/pscs087/fakesocceroosshirt/
Here's how to spot the difference between the real jersey from the fake:


Picture 1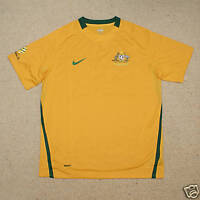 This is the fake jersey, believe it or not. It is almost identical to the authentic jersey until you see the close ups below.


Pictures 2 & 3


NikeFIT embroidery towards the bottom-left of the shirt is poorly done. When you see the inside of the embroidery, there is a piece of untrimmed white piece of fabric. The genuine ones are "plucked".


Pictures 4 & 5


Here's the caveat. These high-quality ripoffs are probably produced in the same factory as the authentic shirts, except there's no quality control and they use their own materials and resources. The green strip should be in equal width all the way down, but here this just shows it's been poorly done. The collar: The first look you may think it's real, but look again at the green strip. The ends are cut off and connected at different lengths. The right ends before the raglan sleeve, while the left ends after.


Picture 6 & 7


The crest: the kangaroo and emu should be in gold and silver, respectively; not brown and grey. Different colours are not aligned properly either. The crest should also have a coating over the print, as on the authentic shirts, but this one doesn't have it. The coating protects the print during laundering. The spots around the golden wattle should also be clearly defined and visible. Again, the Nike print should have a coating on it, but this one doesn't.



Picture 8


When zoomed out a little you realise the Nike tick is slightly "too vertical", and that the yellow neck-collar piece is slightly too pointy on the bottom.


Picture 9


FFA's logo is poorly printed on the right sleeve. The common problem: the colours are not aligned properly. The gradient from green to yellow fade resembles poorly printed newspaper "dots". The authentic shirts' logos have a smooth gradient.



Picture 10


The inside fabric shows some "dots" in a pattern. An authentic shirt feels smooth and soft, like cotton, however, this one feels rough/rugged and "thin". Fake shirt fabrics are often very thin, thinner and more "transparent" than the real ones.


Picture 11


The word "Australia" on the back of the collar is printed skew and again, it does not have the transparent coating over it.


Picture 12

The tags inside are some unreadable, generic, poorly printed washing guidelines. The only thing I can make out from these writings is "keep away from fire".


Picture 13 & 14


This price tags. This barcode sticker is in fact printed from an inkjet printer found in most households. Poor quality tags: Note the tags are like "cut-outs". The edges of the tags are rough and have a protruding point around the middle of the tag. The edges are slightly embossed which tells you it's not being cut properly with a proper blade, but are cut using a "mould" to save costs and you can see they aren't cut straight either. The irony is that the tag says "authentic"...
Furthermore, an authentic shirt's tag comes with a large, green card saying that the product is authentic, and is printed with Nike and Socceroos logos. Obviously this fake tag wouldn't have it because it's mass produced and would be attached to other fake shirts of other teams too, so they wouldn't bother making an extra card for the Socceroos jerseys.



Other tips:
The shirt has a strange "stink" when I received it. It smelled like a wet piece of dud, or a mouldy smell. Feel the shirt's fabric. If it doesn't feel smooth and "solid", chances are it's a fake.




So to sum up the handy tips:
printed crest quality

tag quality

fabric and stitching quality



I hope you have learnt something in this tutorial!
Please rate this guide helpful (click on "Yes" below) because the more people rate it, the more visible this tutorial will be so I really hope no one will be the next victim of these highly immitated fake shirts!