Console land is a minefield. Traverse it intact with this quartet of rankings.

No 1. Sony Playstation 3
Rrp $699 ( April 08 )

For $700 bucks, you can get a pretty decent PS3 package this month as the Prologue Pack with Gran Turismo 5 as a freebie. The game isn't exactly a match with the F1 games, but why not grab one and keep it for further trade in?
Why it's No 1?
It's ferocious powerful, yeap, the latest cutting edge technology, HD gaming with enormous multimedia potentials. Although we can only get the 40GB hard drive in Australia, but it's the only game console so far on the market with a built-in Blu-Ray player. The combo makes this the nerve centre of a top HD home cinema set-up, while the ability to stream content to PSP is a potentially another killer app. Rumours of a PS3 Slim & Lite version is out by the end of this year, so we will keep the radar rotating.
Thumbs Up
Multimedia all in one with built-in Blu-Ray, with sheeeeeer oomph
Little Finger Down:
Obviously it's the price tag, whooping 700 bucks?! AAA-grade games not exactly flooding the shops.
iHubCentral Rating: 9.8/10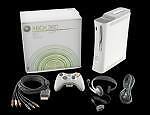 No 2. Xbox 360
Rrp $ 576 - 729
For just $100 less than PS3, you'll get a 20Gb xbox 360 console, an official component HD AV cable, wireless controller, an official headset and an ethernet cable. Not bad deal, Bill!
The veteran of next-gen console land gets an update: adding an HDMI port and a whopping 120GB ( of cuz extra $$$) detachable hard drive to the mix. With by far the biggest catalog of games out of the big three, the Xbox 360 also has the most well established and polished online service. What it lacks in power compared to the PS3, it more than makes up for with impressive software support, and some seriously addictive and exclusive titles, i.e. Halo ( One of my personal favorite)
Thumb Up:
The biggest game catalog out of three and addictive online services / community / arcade.
Little Finger Down:
Lack of the power of being a multimedia centre
iHubCentral Rating: 9.6/10

No.3 Nintendo Wii
Rrp $399 ( I think it's out of stock all around the world until now)
No doubt that those Japanese Konichiwa Ninja are aliens. They created a totally new way of gaming, so called Wii, ( not Wee Wee) Wii brings gaming to the masses with the amazing Wii controller. Nintendo has avoided direct competition with PS3 and 360 and gone down a pure fun route to next gen glory, and seems to be working so far: its the punter's clear favorite, the world over. For the last 10 months, Nintendo Wii has been on the console sales leaderboard untouched. Another whoppy Guiness record I guess.
Thumb Up:
Family friendly console, far more immediate, fun and lady-friendly than its rivals. 60% Wii owners are female, believe or not.
Little Finger Down:
Questionable longevity, lack of hardcore games, and Nintendo seems prefer keeping the cards to itself, and preventing third party developers to come up with tailor-made games. However improvements has been seem lately, i.e. DDR, Resident Evil etc.
iHubCentral Rating: 9.5/10
In a nutshell, there is no right or wrong game consoles, I've got them all, but hardly spend quality time with any of them. If you are a hardcore pro gamer, you'll either go for a PS3 if you have a huge collection of PS2 games, or end up with a 360.
If you are thinking buying a mother's day pressie, mate, go for a Wii plus some fresh flower, you can't go wrong.
iHubCentral offers a huge range of gaming accessories and ipod accessories, vote for me or check my ebay store out, yeah, look up to the right, and you know what I mean.... lol
Guys, please vote for me if you think this article is a quality one, cheers!