So you have sold a book on Ebay and now you have to post it to the lucky buyer.... what's the best way to pack it and post it to ensure it gets to its new owner in the same condition as it left you?
It depends on what kind of book you have sold. A thin, light book or magazine - under 2cm thick and 500g - can be posted in an envelope. Australia Post sells a range of prepaid envelopes which are a cost-effective postage method. Books thicker than 2cm and under 250g can be posted as a 'small parcel', up to 500g can be posted anywhere in Australia in a 500g Australia Post satchel, and up to 3kg of books can be posted anywhere in Australia in a 3kg Australia Post satchel.
Many Ebayers who sell a lot of books offer a postage discount on multiple buys up to 3kg, and put the books in 3kg post satchels, which reduces the cost to the buyer, time and effort for the seller, and can be a good way of possibly selling more books to a buyer who has already bought a book from you. Using Australia Post prepaid envelopes and satchels makes it very easy to quote postage costs in your listings, which means there are no nasty surprises for the buyer, and it can make the difference between selling or not selling your book. As an Ebay buyer, I'm far more likely to buy from a seller who quotes postage than go to the effort of contacting the seller to ask their postage charges. If there are a few of the same book for sale or auction on Ebay, I'll always buy the one that has postage listed, unless of course the postage charges are outrageous.
Packing your books to post:
Bubble wrap is your friend!
But remember that you're not giftwrapping the book with it, you're using it to protect the book, especially the corners and spine. Be generous. The heavier the book, the more bubble wrap you need to use to ensure those vulnerable corners don't get damaged. Using more layers on the corners and spine of the book is often a good idea. For really heavy, or valuable, or new (or all 3!) books, consider using cardboard or a box as well to provide extra protection. If you use a box, use some kind of packing material to ensure the book doesn't rattle around as this will also damage corners. Thin softcover books should be protected with cardboard, to that the postman isn't able to fold the envelope/parcel in half and shove it through the letterbox slot. Also, mark the envelope/parcel 'Please Do Not Bend'.
Registered Post
is the best way of making sure a valuable book gets to its new owner, but if it does go missing the owner is compensated.
Express Post
gets books to their new owners quickly throughout many areas of Australia, and in remote areas while an overnight service isn't guaranteed, they still get there faster than regular post. BUT, if a parcel goes missing there's no compensation apart from replacement of the Express Post envelope or satchel.
Posting your parcels
Anything heavy or valuable should be handed over the counter at a Post Office wherever possible. Posting in a post box can't guarantee that a heavy book won't hit the bottom of the box, and those post bags get thrown into the back of Australia Post vans with some force. Parcels handed over the counter are placed in boxes which tend not to get thrown around as much.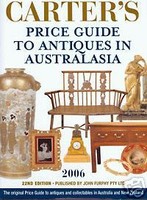 Visit my Ebay store!
View my other guides