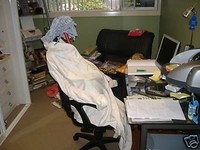 Came back from my early morning walk just recently, to find a stranger sitting at my desk, ( photo above )
Well says I, my husband must be either angry or bored, figure I better find out which one,or I might not get breakfast.
I ask him, why do you have that effigy sitting in my chair? answer, Well the chair is never empty so decided to fix it so I feel more at home.
Well does that mean you are angry? Answer, It might be nice if we could actually have a conversation like normal people instead of you sitting in that room talking to a bunch of strangers all day.
I say to him I am not sitting in here talking to strangers I am working.
Really he says how many things did you list today? umm none says I.
So it goes on for the rest of the day and week and month, I feel totally nagged to death, guess he feels totally neglected.
I am in the fortunate position that I don't need to list if I don't feel like it, so apart from my husband thinking it's time he found a talking partner no harm is done.
How many other people spend too much time on the forums? Or just waste their time looking around to find things that they probably can't afford anyway.
Would you feel happier if you spent more time on outside things, in the real world or does it make you happier to make new friends or a few enemies if you prefer?
Too bad these guides can't be answered there would be some interesting one's.
Still maybe it would make a good thread.