Pearl Care & Cleaning
Since pearls are softer than gems, they require special care, for the longest-lasting pearls choose those with thick nacre that can help pearl withstand wear over time. Fine quality pearls, if properly cared-for, can last for generations.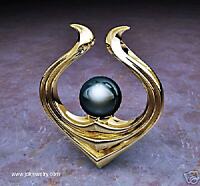 Below are some basic care and cleaning rules which apply to all Saltwater pearls and Freshwater pearls:
Do not toss them carelessly into a purse or jewel box where they can become scratched by hard metal edges or harder stones.

Do not expose them to acid-based hair sprays, cosmetics or perfumes which can dull their luster over time and cause spots and blotches. Therefore, pearls should be the last thing a woman puts on before going out and the first thing she takes off after returning home.

Do not clean them with mechanical/ultrasonic jewelry cleaners, heat, chemicals or detergents.

Treat pearls gently. Place them in a chamois bag separately from other jewelry that might scratch or dull their tender surfaces or wrap them in tissue when putting them away.

If you wear your pearl jewelry once a week or more take them to a jeweler for restringing once a year. Cosmetics, hair sprays or perfumes can weaken and stretch the silk or nylon threads on which the pearls are strung.

Wipe with a soft cloth or wash with mild soapy water after taking them off. This will remove all traces of perfumes, cosmetics or hair sprays from the pearls.

Please store Pearls in soft cloth pouch, minimize its contact with hairspray, makeup, perfume, and other personal care products, which contain chemicals that can harm the pearl's surface and dull the pearl's luster. When you take your pearls off, gently wipe them with a soft damp cloth. Washing your pearls periodically is the best way to help remove harmful build-ups.
All the pearl items in our store come with a FREE exquisite jewelry silk pouch. It's perfect to store your pearls.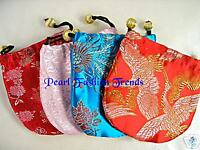 Welcome to browse our eBay store for more information.
Please click these links below to see other pearl guides I wrote: