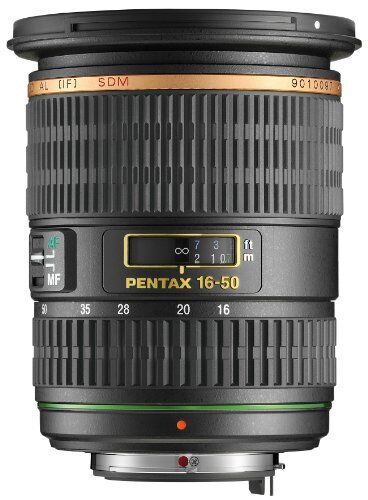 Pentax are a manufacturer of cameras and a series of lenses for said cameras. There is quite a large selection of lenses to choose from, and some buyers may find difficulty in deciding which lens would be most suitable for their photography needs. The following guide shall examine the various Pentax lenses available to buy and explain how to find these lenses on eBay.
Pentax Lenses
Pentax lenses are made specifically for use with the company's various digital SLR and photographic film cameras, and all of the lenses have an autofocus feature that is either operated from the camera body or an internal SDM motor. Below are the various Pentax lens designations available to buy today.
| | |
| --- | --- |
| DA | The Pentax DA series of lenses are made for use with the Pentax line of digital SLR cameras. DA lenses are manufactured specifically for use with digital camera sensors, and are not suitable for use with film cameras. DA lenses are compact and have a very efficient design, and are excellent value for money. The DA range of lenses is suitable for shooting indoor, portraits, sports and wildlife and low light photography. |
| D FA | The D FA range is made for digital SLR cameras, but can also be used with Pentax 35mm film cameras. The D FA range utilises lens coatings and optical elements position to minimise flare and ghosting, which results in extremely clear high quality images. The D FA series of lenses is especially adept at shooting close-ups, insects, floral and wildlife. |
| FA | The FA series of lenses was built for use with Pentax film SLR cameras, but these can also be used with Pentax digital SLR cameras. Buyers who purchase a lens from this series can expect full-frame image coverage with both automatic and manual aperture control. FA lenses can be used to shoot nature, portraits, weddings and low light photography. |
| DA* | DA* lenses are high-grade lenses that are manufactured exclusively for use with Pentax digital SLR cameras. DA* lenses are considerably more expensive than the other lenses on this list but are made from high quality components and have excellent construction that protects the lens from poor weather conditions. DA* lenses are ideal for use in wet and windy weather. DA* can be used for portraits, landscapes, family photography, wildlife, sports and low light photography. |
| DA Limited | This line of lenses is also quite expensive, but offers optimum image quality and sharpness . DA Limited lenses are made for use with Pentax digital SLR cameras, and are more suited to professional photographers looking for a high-grade lens with excellent durability. DA Limited lenses are excellent at shooting close-up images that require precision detail. |
| 645 | Pentax D FA 645 lenses can only be used with the Pentax 645D camera systems. 645 lenses are weather and dust sealed and feature quiet SDM autofocus motors. The 645 series is very suitable for wildlife photography. |
| Q | These lenses are designed for use with the Pentax Q-Series Interchangeable Lens Cameras. Q lenses are quite flexible in regards to the range of subjects and scenes that can be shot. Q-Series lenses can be used for a variety of shots including indoors, portraits, sports, landscapes, wildlife and weddings. |
Searching for Pentax Lenses on eBay
All buyers are advised to search for their desired Pentax lenses on eBay. The site has an unrivalled selection of cameras, lenses and photography equipment for sale at very reasonable prices. To start a search for a suitable Pentax lens, take the following simple steps.
· Head to eBay.com.au and when the homepage has loaded, click on the Cameras & Photography link found in the Electronics tab on the left hand side of the page.
· On the following page scroll down and click on the Lenses link found halfway down the list.
· Type the name of the desired Pentax lens into the search bar and press enter e.g. Pentax DA Lens.
· Buyers can use the Condition filter to search for used Pentax lenses only. Used lenses will be less expensive but buyers need to ensure that the lens is in good working order and is in no way damaged. Visually inspect any photographs of the device and look for cracks in the glass. Check the description box on the item page of the listing for information regarding condition, and use the Ask a Question feature to request additional photographs or details.
Buyers should visit eBay Deals as there are a number of camera lenses for sale here at reduced prices. The stock on eBay Deals is constantly being updated, and buyers can access the relevant section of the site by clicking on the Deals link at the top of the page, followed by the Lenses link underneath the Cameras heading in the Electronics tab.
Conclusion
There are a number of different lenses available for owners of Pentax cameras, but buyers need to check that their desired lens is compatible with their camera. Certain lenses are made specifically for use with Pentax digital SLR cameras, while others are used with Pentax film cameras. Remember to check the compatibility of a lens before making a purchase, and visit eBay Deals for lenses on special offer.