Dress up any Occasion with personalised ribbon. Choosing the right size and ribbon can be the difference between a great day and a very disappointing one. The best ribbon is a soft double faced one, especially if being used on a car. The stiffer ones (silk florist ribbon or Acetate) will actually scratch the bonnet. The width size to use on cars is 50mm or larger and most cars use 6 meters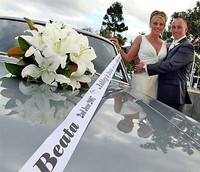 using 50mm x 6m
Cakes use 34mm-38mm sometimes 50mm is used on larger cakes. and 3 meters in length is adequate.
using 34mm x 3m
Bonbonnieres/Favours/Order of Service 10mm by whatever length you will need.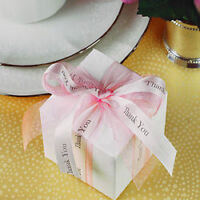 using 10mm
You can use 25mm on most items like bouquets, church pews, packages etc.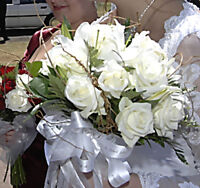 using 25mm ribbon
We hope this has helped for those who are not to sure. If you still need advice or suggestions please do not hesitate to contact us at HOTBODYZ. A full range of Personalised ribbon can be found in our ebay store!
Our Ebay Store