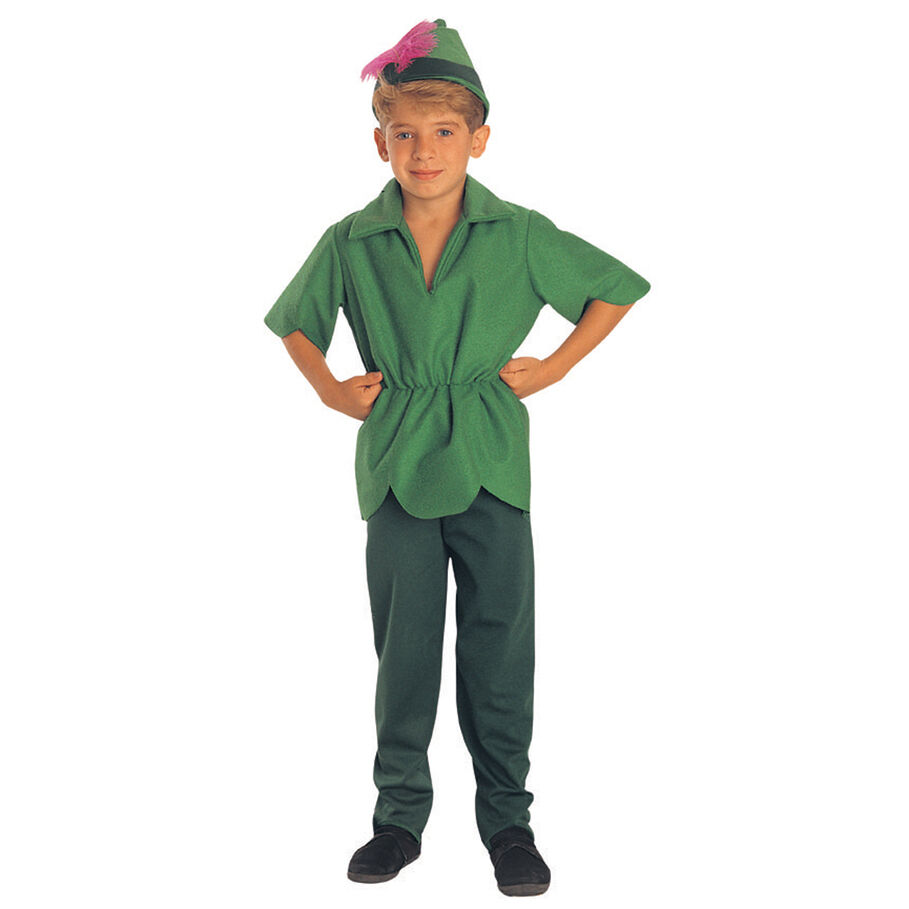 Peter Pan, the boy who refuses to grow up, is recognised by his outfit, which consists of tights, a short-sleeve green tunic, and a pointed hat with a red feather on it. Worn by both children and adults alike, Peter Pan costumes come in a wide array of sizes and fashions. Although traditionally tailored towards men, many modern version Peter Pan costumes are now unisex in style. The costume can be worn singularly or duoed with a Tinker Bell or Captain Hook costume if attending a Halloween party with friends. When purchasing a Peter Pan costume at retailers such as eBay, buyers should familiarise themselves with the various types and consider the different aspects that help form a well made decision.
Types of Peter Pan Costumes
Based on the Disney film, Peter Pan, Peter Pan costumes come in several types, including Peter Pan himself, Captain Hook, and Tinker Bell. When searching for a costume, buyers should familiarise themselves with a character description of each to help them play the perfect role.
Peter Pan
Peter Pan lives in Neverland, a small island where children never age. He has pointed elf-like ears, brown eyes, and dark red hair. As leader of his gang, the Lost Boys, Peter Pan takes on a boastful and careless personality. Fearless in nature, Peter is quick to take on challenges and often finds himself in dangerous situations.
Tinker Bell
Tinker Bell is a sassy little sprite who never strays far from Peter Pan. Although spoiled, jealous, and sometimes vindictive in character, she has a kind and helpful side. In Disney's animated film, Peter Pan, Tinker Bell is portrayed as young and attractive with blonde hair and blue eyes. She wears a short lime-green dress with rigid trim and green slippers with white puffs. Trailed by small amount of pixie dust when in movement, Tinker Bell has been granted the ability to help humans fly should they think happy thoughts. Tinker Bell costumes are tailored towards females.
Captain Hook
Portrayed as Peter Pan's archenemy, Captain Hook is lord of the pirate village in Netherland. He wears a red and gold satin jacket, red satin pants, and a red hat with a feather. He also has a mustache and an iron hook which replaces his right hand. As the storyline presents, his hand was cut off by Peter Pan and fed to a crocodile who follows him everywhere in hopes of getting another tasty treat. Captain Hook costumes are generally tailored towards males.
Aspects to Consider When Searching for a Peter Pan Costume
There are various aspects to consider when searching for a Peter Pan costume, including sizing, quality, brand, and included accessories. These factors help ensure that buyers are satisfied with their purchase.
Sizing
Unlike everyday wear, costumes are made in limited sizes. As such, they generally contain some degree of elasticity to better contour to the wearer's body shape. To increase one's chances of finding the perfect fit, buyers should consult a size chart. This is especially important when buying handmade Peter Pan costumes. If a size chart is not made available, it is best to purchase the next size up.
| | | |
| --- | --- | --- |
| Demographic | Letter Size | Numeric Size |
| | Infant (Child) | 6 to 12 months |
| Child | Small Toddler (Child) | 1 to 2 |
| Child | Toddler (Child) | 2 to 4 |
| Child | Small (Child) | 4 to 6 |
| Child | Medium (Child) | 8 to 10 |
| Child | Large (Child) | 12 to 14 |
| Child | Extra Large (Child) | 16 to 18 |
| Women | Standard | 8 to 12 (unless otherwise noted) |
| Women | Extra Small | 2 to 6 |
| Women | Small | 6 to 8 |
| Women | Medium | 8 to 10 |
| Women | Large | 12 to 14 |
| Men | Standard | 38 to 42 (unless otherwise noted) |
| Men | Small | 36 to 38 |
| Men | Medium | 38 to 40 |
| Men | Large | 42 to 44 |
| Men | Extra Large | 46 to 48 |
Each costume manufacturer may vary their sizes slightly. You should choose the size that fits you well rather than one you wish fit you well. Being comfortable in a costume is as important as choosing the right costume.
Quality
When searching for a Peter Pan costume, buyers should consider overall quality. Quality amongst Peter Pan costumes tends to vary depending on manufacturer and fabric choice. Even if only planning to wear the costume for one occasion, choosing high quality craftsmanship ensures a higher resale value.
Brand
Buyers should keep in mind brand name when searching for a Peter Pan costume. Because Peter Pan is licensed to Disney, buyers often search for the Disney logo when purchasing their costume. However, Peter Pan costumes are also created by a number of lesser known manufacturers. These non-licensed manufacturers sell costumes, often of which are comparable in quality, for far less than name brand price. Buyers should note that non-licensed products may be colored slightly different than that of their licensed counterpart.
Accessories
When searching for Peter Pan costumes, buyers should consider the number of components included in the set. Some costumes only include the bare minimum, leaving buyers to purchase excluded accessory items, such as swords and hooks, separately, while other costumes include everything one would need to complete the look. Often times purchasing a complete set is cheaper than purchasing each piece as a separate component.
How to Buy
Buyers who would like to purchase a Peter Pan costume can start their search on eBay. From here, you can enter any related key terms into the search bar. Once on a search results page, you can continue to follow the subcategories to further narrow down your choices.
For those who wish to browse listings within a certain price range, eBay offers an advanced search feature to help buyers to select a budget limit. This can help you determine which sellers are offering the best deal on the Peter Pan costume you are interested in buying. You can also look for listings from Top-rated sellers. These sellers are known by the eBay community for providing the highest levels of reliability.