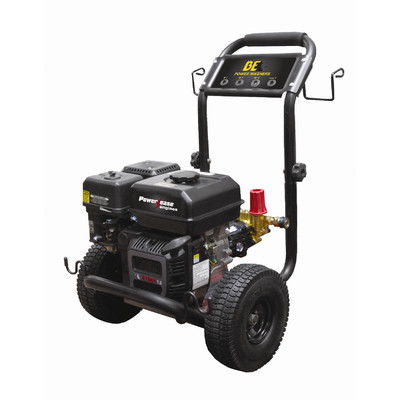 A petrol pressure washer is a type of cleaning device that uses a pump to create high-pressured jet streams of water. This form of cleaning is very successful at loosening and removing dirt and grime particles. A petrol pressure washer uses a gas engine to supply power to the pump, and petrol engines are typically found on medium and heavy-duty washers.
Buyers are advised to search for pressure washers on eBay, as the site has a large selection at very low prices. The following guide shall examine the different types of washer available and will explain how to find a suitable model on eBay.
Types of Pressure Washer
Pressure washers can be divided into three groups, and these groups are identified by the strength of the pump. The unit of measurement associated with pressure is the bar, and this is used to identify the strength of the washer. All buyers should carefully consider what exactly the washer will be used to clean, as this will influence which type of washer is most suitable.
Light Duty

Light duty pressure washers can achieve strength of 100 bar, and although the majority of light duty washers use an electric motor, it is possible to buy some that use a petrol engine. Light duty washers are used to clean garden furniture and tools, and can be used for general cleaning in the garden and around the house.

However, buyers looking for a light duty pressure washer for commercial are recommended to search for those with electric motors rather than petrol engines.

Medium Duty

Petrol engines are the most common source of power for medium and heavy-duty pressure washers, and devices of this size often come in compact frames, allowing for easy transportation. These devices can achieve an output of 110 bar, so buyers need to be careful when using them. Medium duty petrol pressure washers can be used commercially at home, but buyers with small gardens should avoid these.


The washer needs to be kept in a well-ventilated area when in use to prevent fumes from building up. Medium duty pressure washers are typically used to clean cars, vans and other small vehicles, as well as decking and patios.

Heavy Duty

These are suitable for industrial use only, and are generally used to clean large vehicles, such as trucks, farm equipment and also brickwork. Heavy-duty pressure washers range between 110 and 130 bar in strength, and as a result, buyers should be well informed of how to operate them.
Why Choose a Petrol Engine?
There are a number of reasons why people choose a petrol engine powered pressure washer over an electric powered model, but buyers should be aware of the advantages and disadvantages of doing so.
· Petrol engine washers can achieve much higher levels of pressure than the electric motor versions, resulting in a stronger spray. A stronger spray means a better clean, and heavy-duty petrol pressure washers can even be used to remove paint.
· Petrol pressure washers have greater portability than those that use electric motors. Light duty pressure washers require connection to an electrical main to operate, which greatly restricts where they can be used. Most medium and heavy-duty pressure washers are housed in compact frames, with wheels allowing the buyer to easily transport the washer to wherever it is needed.
· However, petrol engine pressure washers produce fumes and thus need to be kept outside when in use. These washers also produce high levels of noise, and the engine can become very hot to touch when it is switched on. Because of this, it is important that buyers ensure that children and pets are nowhere near the washer when it is in use.
· Buyers need to read the operating manual of any pressure washer they buy before use, and should follow the guidelines given. Buyers using heavy-duty pressure washers are advised to wear protective clothing, such as gloves, goggles and earplugs.
Pressure Washer Components
Although pressure washers may vary in strength and power source, all washers use the same basic components, making it very easy to obtain replacement parts if needed. Buyers need to ensure that part they buy is the same size as the one being replaced, and should check the 'Description' box on the item page of a part listing for exact dimensions.
If this information is missing then it can be requested using the 'Ask A Question' feature located towards the bottom of the page. The following are the common components found in all petrol pressure washers:
· Pressure washers use hoses made from thick plastic to move water from the source to the pump to the nozzle. Common hose lengths are 10m, 20m and 30m, and the price of the hose will reflect its length.
· The pump is located in the main housing unit, and this is what provides the washer with pressure. Buyers looking for a replacement part are advised to search for pumps with the exact same strength output and dimensions.
· The petrol engine is also located in the housing unit. Buyers should carefully read the operating manual before feeding the tank with petrol.
· The second hose connects the pump to the lance or gun. Lances are more popular with industrial and professional cleaners, and offer a better range and greater control. Guns are typically used with commercial washers. Inside of each, buyers will find a small nozzle, and this nozzle can be used to change to pressure and spread of the water.
Searching for Petrol Pressure Washers on eBay
When buyers have some idea of what type of pressure washer would be most suitable for them, they can head to eBay.com.au to start a search.
· The first thing to do is click on the 'Shop By Category' tab located to the left of the search bar. When this tab opens up, click on the Gardening title found below the Home & Garden heading.
· On the following listings page, click on the Outdoor Power Equipment link. This is located towards the bottom of the 'Categories' table, which is on the left of the page.
· On the next page, click on the Pressure Washers title. Type Petrol Pressure Washer into the search bar and press enter.
· Buyers looking for a specific model or strength should enter this information into the search, e.g. 100 Bar Pressure Washer.
· Using the adjustable price slider found on the left of the page is a quick and easy way to search for pressure washers within a certain budget.
· Buyers can choose to search for used petrol pressure washers by clicking on the 'Condition' filter. However, buyers considering the purchase of a used pressure washer need to be certain that it is in working order. Study any photographs for signs of damage, and search the seller's history for negative comments.
· Buyers should also check 'eBay Deals', as this portion of the site has petrol pressure washers for sale at much lower prices than those on the main site. Click on the Deals link at the top of the page, followed by the Gardening title in the Tools tab. The pressure washers should be about one quarter of the page down.
Conclusion
Petrol pressure washers are powerful cleaning devices that can be used to remove dirt and grime from a number of objects. A petrol engine pressure washer will have a stronger output than one powered by an electric motor, but buyers need to consider the fumes and noise that are created by the washer when it is in use. All buyers are advised to search for pressure washers on eBay, and those that do so will find a large selection at very reasonable prices.