Peugeot remote key Partner Expert 107 307 308 407 607 worn buttons replacement.
Peugeot polmex_buttons are 100% Australian Made from high quality Silicone that does not age and deteriorate with age.

1. To replace buttons pad you NEED TO OPEN your remote.
2. Pull your remote apart and separate electronics from the shell. Remove existing old key button pad using screwdriver if buttons are already broken or stanley knife to cut it out smoothly around cutout edges. You have to be careful not to cut into hard shell.
3. Press fit new Silicon pad in from inside of the shell
4. Once buttons installed, place electronic board back in remote, cover it with bottom part of remote and screw it together. Your new pad should look like the one in the picture below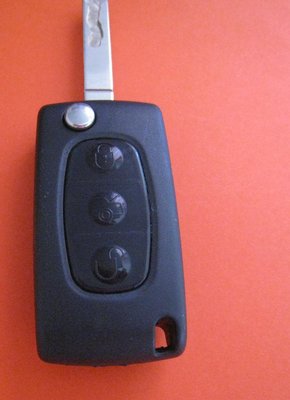 Peugeot remote key 106 306 307 405 406 Silicone repair buttons.
Most common problem with Peugeot remote key 106 306 307 405 406 is associated with :
- worn key button that disintegrates over period of time and leaves nothing but the hole in your remote

- missing or broken tip (knob) that provides contact between key button and the electronic switch and allowing your remote to function (this problem is associated with square type 1 swtiches)
In majority of cases there is nothing wrong with switch and it DOES NOT NEED replacing or re- soldering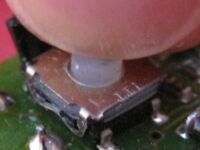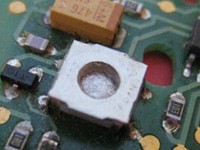 Described above problems can be easily fixed with this very unique BUTTON that is especially designed to address both problems at the same time.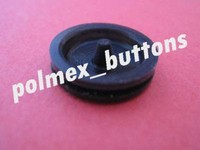 You can visit our polmex_Buttons Store at get yoursef this great two-in-one fix. This is very simple cost effective solution and you do not need to re-program your remote.
Peugeot remotes with 2 round buttons come with square or rectangle switches:
-Square switches have the same deteriorating tip problem as described above for 1 buttoned remote. For this (type 1) of remote we have specially design buttons that address ageing tip problem and worn button problem at the same time.

-Remotes with rectangle (type 2) switches do not have above problem and for this remote buttons are designed diffrently.


Instruction to replace worn button in 1 buttoned remote:
1. Before you replace your worn button we suggest removing plastic tip (knob) from the top of the switch.
Even if plastic tip (knob) is still attached it will soon become brittle and disintegrate, the same way that key button in your remote did.
2. To remove plastic tip (knob) simply scrape it off using your finger nail. If any remnants of old plastic are still attached, remove it with wooden tooth pick.
3. Next remove any remnats of the old rubber key button from the top part of your remote

4. Once area wher tip was attached is cleaned , and any remnants of the old rubber key buttons are removed , press fit your new Silicone Button in.

Protruding from the bottom of the button , in-built part will percisely fit in the empty space left after removal of the plastic tip (knob).

5. Once button fitted, your remote will work stright away. No need for re-programming.

Please visit Our Silicone Buttons Store for detailed instructions and more items. If you find this Guide helpful, please leave positive feedback.