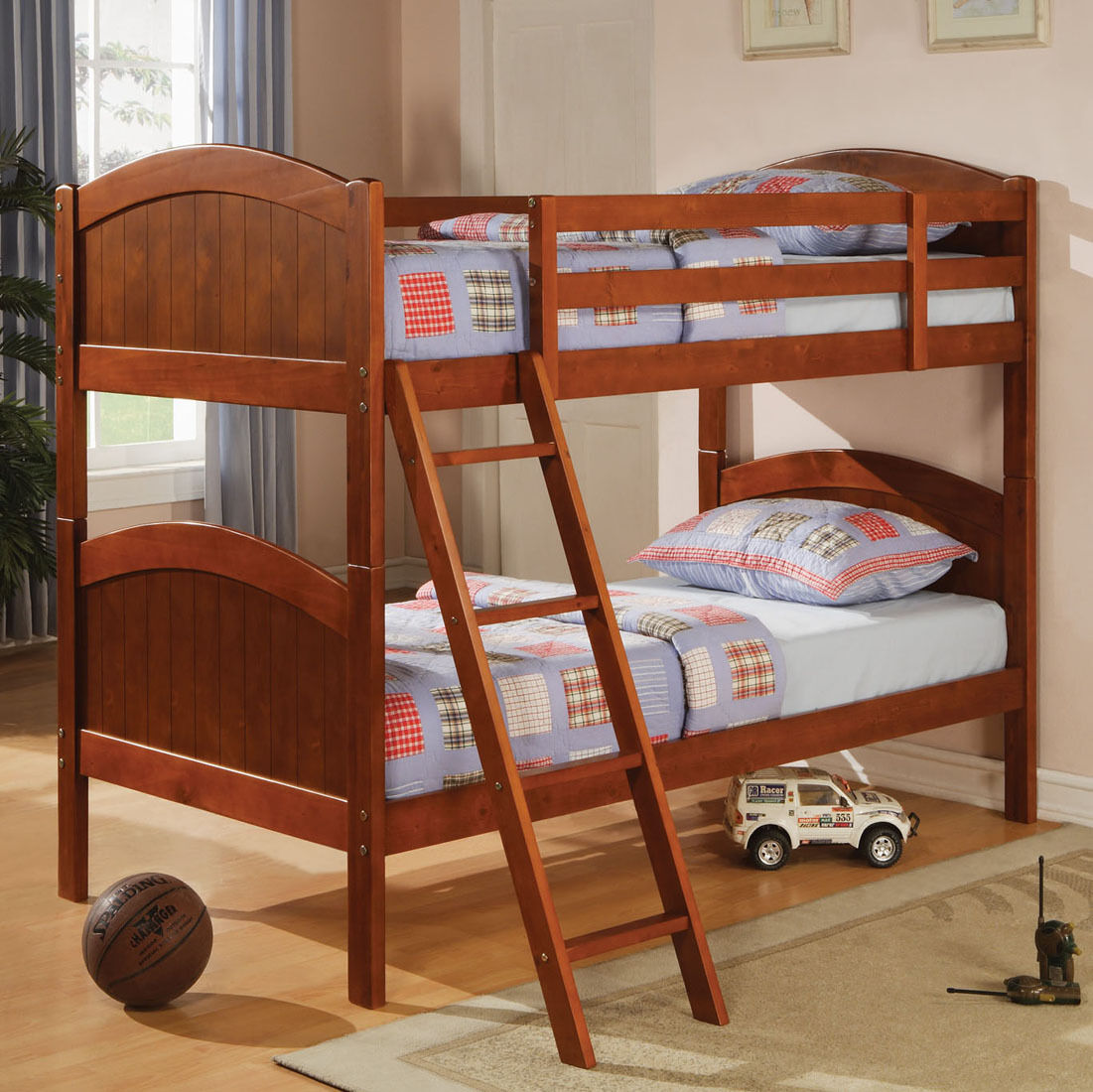 Bunk beds are popular because they allow more people to sleep in spaces usually reserved for one person. The beds stack on top of each other so as to save floor space. People most commonly use these types of beds in children's rooms where two or more children share the room. Adults sleep on bunk beds in rooms where space is limited such as in a uni residence or a backpackers. Pine is a popular wood for bed furniture for several reasons. A shopper looking for bunk beds for a bedroom should take the time to consider the benefits of pine bunk beds. Before making a purchase, the shopper should should also learn about the different types of bunk beds available, and evaluate the safety features that various designs offer.
Benefits of Pine for Bunk Beds
Furniture manufacturers make bunk beds from several materials including metal and different types of wood. Pine is one of the best choices for making bunk beds and has several advantages over other materials. The first advantage of pine wood is that its colour works well with other types of wood and other finishes like paint. Pine has a neutral colour that is light and so its presence helps to brighten up a room. Another benefit is that pine is very sturdy. Since people usually use bunk beds for children, having a durable wood is important. Lastly, pine bunk beds are affordable. Pine furniture is much less expensive than other types of furniture yet the wood can have an upmarket look about it.
Types of Bunk Beds
Most people think of standard bunk beds, but several different styles of bunk beds exist. A shopper must choose the type that best fits in the bedroom and meets the needs of sleepers. The table below lists and describes the main styles of bunk beds.
| | |
| --- | --- |
| Bunk Bed Type | Description |
| | Two mattresses of the same size stacked on top of each other and aligned parallel to each other |
| Twin Over Full | A twin size mattress over a full size mattress |
| | A twin size mattress over a full size futon |
| | Twin size mattress facing one direction with another bed underneath positioned at a 90-degree angle |
| | Bunk bed with only one mattress on top; creates empty space on the bottom for other furniture |
| | Three mattresses of the same size stacked on top of each other in parallel alignment |
Futon bunks and loft beds are common amongst uni students and people living in units or small homes with limited space. These bunk beds provide a place to sleep without taking up too much space in the room. In addition to the different types of bunk beds available, a shopper must also choose consider the type of mattress she wants to use in the room. The two main types of mattresses that fit on pine bunk beds are traditional spring mattresses and coil mattresses.
Bunk Bed Features
Evaluating and comparing the different features of bunk beds also helps shoppers find the furniture that best meets their needs. While all bunk beds have the same basic design, with one bed on top and the other bed underneath, some bunk beds offer more features than just sleeping areas. Some features to consider when shopping for bunk beds include a study area, extra storage space, and safety features like rails.
Study Area
Loft beds often just have an open space underneath to give people room to place desks, couches, or other furniture. However, some pine bunk beds have built-in desks for added convenience. Because a desk or study area is part of the bed, the wood of the desk matches the wood of the bunk beds. The study area underneath allows a user to have a full-size desk without a desk taking up additional space in the bedroom.
Storage
Many pine bunk beds have built-in drawers for storage space. As with a built-in desk, the drawers help to save space inside the bedroom. Shoppers do not have to look for additional chests of drawers to store clothing. Many bunk bed designs include drawers underneath the lower bed. Others have drawers fashioned into stairs to provide an easy way to climb to the top bunk. Bookshelves built into the end of the bunk's frame provide additional storage space as well as make the frame more attractive.
Safety Features
When children sleep in bunk beds, safety is extremely important. This is especially true for younger children as there is the risk that a young child may roll off the bed whilst sleeping. Shoppers should look for bunk beds with guard rails on the top bunk. These rails should go all the way around the outside of the bed. For small children, stairs are a safer option than a ladder for climbing to the top bunk. A shopper should be sure that the base of the top bunk is sturdy enough to hold the weight of a sleeping person as well as the mattress.
How to Buy Pine Bunk Beds on eBay
eBay has several great deals on pine bunk beds of all styles. Start looking for the bunk beds you need by performing a basic or advanced keyword search. Refine the initial search results by selecting the condition and price range. Carefully read the description of the bunk beds to find the furniture that best meets your needs. View the photographs to make sure that the design is to your liking. Many sellers offer free shipping or allow you to pick up the bunk beds in person to save money on postage and packaging. Whether shopping for standard pine bunk beds for a child's room or a loft bed for an older child, eBay provides a number of selections to choose from.