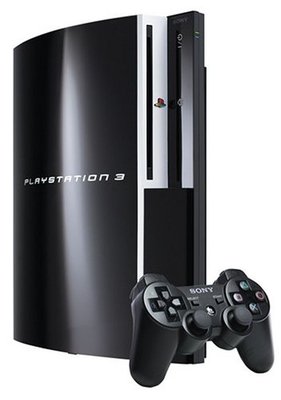 Original PS3 Concole
40Gb Sony PlayStation 3 Console
As its digital soul, the Cell BroadBand Engine represents a tour de force in parallel processing, which means a
gaming
experience that is beyond what you know today. Its built-in Blu-ray Disc drive delivers a whole new generation in high-definition gaming and unmatched digital media storage. Whether it's gaming, Blu-ray movies, music or online services,
PlayStation 3
invites you to Play Beyond.
* This product is not backward-compatible with PlayStation 2 titles.
Features
2 USB ports: Connect devices such as cameras, steering wheels, SingStar microphones, wireless buzzers and more!
WiFi: Connect to your wireless modem or router with the PS3's in-built wireless 802.11b/g option.
LAN Port: If you don't have wireless connection, the PS3 also has an in-built Ethernet port which supports 100-1000MB.
HDMI: Your PS3 includes an HDMI output, providing you with the optimal 1080p HD video and audio experience through one cable. BRAVIA Sync is now supported in the new 120GB and 250GB PS3.
Optical-Out: This is a standard audio output for home theatre systems that supports Dolby Digital, DTS and THX sound technologies.
AV-Out:The AV-Out port allows you to use a PlayStation component cable to output in high definition. If you don't have a high definition screen, the PS3 will work with standard definition TVs using the composite cable that comes with the system.
HDD:The PS3 comes standard with hard disc drive which allows you to store games, video, music and photo content for easy access. You can also upgrade the hard drive yourself using a standard 2.5" SATA laptop hard drive for more storage.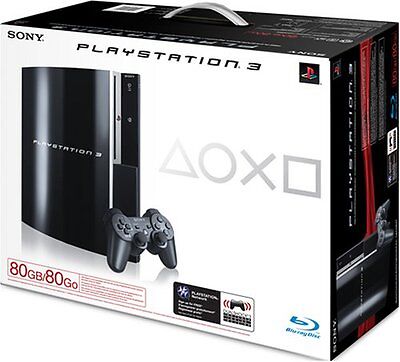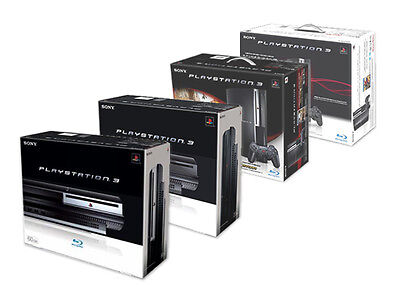 Original model 60 GB model There are several original PlayStation 3 hardware models, which are commonly referred to by the size of their included hard disk drive: 20, 40, 60, 80, or 160 GB. Although referred to by their HDD size, the capabilities of the consoles vary by region and release date. The only difference in the appearance of the first five models was the color of the trim, number of USB ports, the presence or absence of a door (which covers the flash card readers on equipped models) and some minor changes to the air vents. All retail packages include one or two Sixaxis controllers or a DualShock 3 controller (beginning June 12, 2008), one miniUSB to USB cable (for connecting the controller and PlayStation Portable to the system), one composite video/stereo audio output cable, one Ethernet cable (20, 60 and CECHExx 80 GB only) and one power cable. All models support software emulation of the original PlayStation, but support for PlayStation 2 backward compatibility diminished with later compatible models and the last model to have integrated backward compatibility was the NTSC 80 GB (CECHE) Metal Gear Solid 4 Bundle. Compatibility issues with games for both systems are detailed in a public database hosted by the manufacturer.[12] All models, excluding the 20 GB model, include 802.11 b/g Wi-Fi.

In addition to all of the features of the 20 GB model, the 60 GB model has internal IEEE 802.11 b/g Wi-Fi, multiple flash card readers (SD/MultiMedia Card, CompactFlash Type I/Type II, Microdrive,[13] Memory Stick/PRO/Duo) and a chrome colored trim.[14] In terms of hardware, the 80 GB model CECHE released in South Korea is identical to the 60 GB model CECHC released in the PAL regions, except for the difference in hard drive size.[15] The European 60GB model (CECHC), the South Korean and North American CECHE 80GB model excludes the PlayStation 2 "Emotion Engine" CPU chip with it being replaced by an emulated version via the Cell Broadband Engine. However, it retains the "Graphics Synthesizer" GPU resulting in a hybrid hardware and software emulation. Due to the elimination of the "Emotion Engine" and its replacement with a software-emulated version, the level of PlayStation 2 compatibility was slightly reduced. The 40 GB, 80 GB (CECHL,CECHM,and CECHK) and 160 GB models have two USB ports instead of the four USB ports on other models and do not include multiple flash card readers, SACD support, or backward compatibility with PlayStation 2 games. This was due to the removal of "Graphics Synthesizer" GPU, which stripped the units of all PlayStation 2 based hardware.

No official Wi-Fi or flash memory card readers were ever released by Sony for the 20 GB system, although Sony had plans to do so. As of September 2009, Sony had placed no further emphasis on these proposed add-ons. Nevertheless, as the model features four USB 2.0 ports, wireless networking and flash memory card support can already be obtained through the use of widely available external USB adapters and third-party PS3-specific media hubs.

It was rumored that the Cell processors in the third-generation PS3s (40 GB, 2008 80 GB (CECHL,CECHM,CECHK) and 160 GB) would move from a 90 nm process to the newer 65 nm process, which SCEI CEO Kaz Hirai later confirmed, and later to 45 nm. This change lowers the power consumption of the console and makes it less expensive to produce.