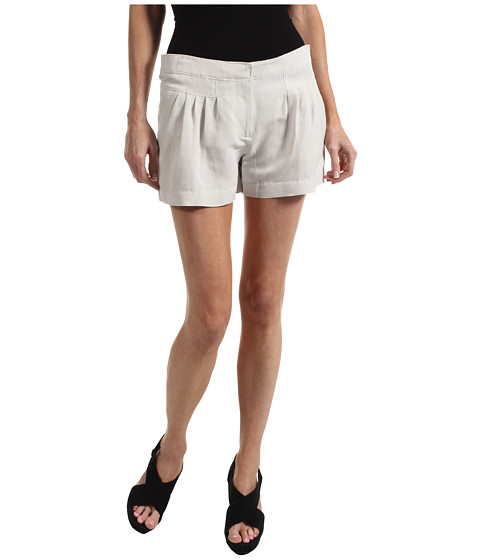 When the weather begins to warm up, men look for the most flattering, comfortable shorts available to wear during the summer months. While there are many types of shorts available from Bermuda shorts to cargo styles, there are two distinct features that separate the designs of shorts. Buyers are able to select between shorts with pleating in the front or shorts that offer a flat front design.
There are advantages and benefits to both styles, and they each offer a different type of fit. Once buyers are educated about the various ways that pleated and non-pleated shorts fit and what features they offer, it is easy to make a decision about which style is best. Shorts are available at a wide range of retailers, but buyers are able to find many styles for low prices on eBay.
Pleated Shorts
Pleated shorts offer men a casual look that is perfect for golfing, sailing, hiking, or enjoying a day out with the family. Pleated shorts are also considered trendy and stylish, and they offer wearers a classic look that is always fashionable. When choosing the right type of pleated shorts, it is a matter of personal preference, aesthetics, and the wearer's body type, as well as what type of occasion the shorts are needed for.
Benefits
Pleated shorts look crisp, neat, and visually interesting. They also allow for a bit of extra room in the stomach area, which aids in camouflaging a tummy or allowing for a more comfortable, roomy fit in the middle section. They are perfect for almost any type of occasion, from a casual to a dressier event or outing. Pleats typically create neater lines, and pleats are actually slimming on men who are a bit heavier.
For men with a more athletic body type or who carry extra weight, pleated shorts are the most flattering choice and the most slimming style of shorts to wear. They are also more comfortable and accommodating for added muscle or weight. Shorter men benefit more from pleated shorts than taller men do.
Styles and Brands
Pleated shorts are available in an array of materials, styles, and colours. Some popular designs include pleated shorts with cuffs, pleated shorts with logos or designs on them such as Polo Ralph Lauren, and pleated golf shorts. Other popular shorts brands include Ashworth, Chaps, and Geoffrey Beene.
Pleated shorts are typically knee-length. They are made of twill, cotton, polyester, linen, or microfibre. There are different styles of shorts such as uniform shorts made for work, golf shorts, and more casual designs such as khaki or denim pleated shorts. Some shorts offer added features to make them even more comfortable, such as moisture wicking fabrics and adjustable waistbands.
Non-Pleated Shorts
Non-pleated shorts are also referred to as flat front shorts. These shorts offer a body-conscious fit that is tailored and perfect for dressy occasions. They are available in a wide range of lengths and styles. Men shopping for non-pleated shorts must take their body type and height into consideration before purchasing flat front shorts.
Benefits
Non-pleated shorts offer wearers a flat front design that is streamlined, and flat front shorts are versatile. They look great with button-down shirts as well as polo-style collared shirts. Shorts made of linen are a dressy option for men wearing non-pleated shorts. Slender men may feel more comfortable in non-pleated shorts, as they fit to the stomach a bit tighter than pleated designs do.
Flat front shorts offer a tailored look along with the snug fit, and are best for men who are conscious of changing trends. Non-pleated shorts are always stylish, and they create a sleek silhouette when they are worn. They are also less forgiving than pleated shorts, so men who are worried about camouflaging abdomen weight may not want to opt for non-pleated designs. Non-pleated shorts are more of a fashion trend, and may come and go in style. Non-pleated shorts are also flattering for taller men.
Styles and Brands
Non-pleated shorts and flat front shorts should be purchased in the proper size so they fit as they should. Flat front shorts are commonly worn for outdoor sports, and Nike makes a range of non-pleated golfing shorts. Other popular brands include Levi's and Tommy Hilfiger. Shorts range from solid colours to plaids and patterns, and the most flattering length is either knee-length or right above the knees.
Non-pleated shorts are versatile and are easily dressed up or down depending on the rest of the wearer's outfit. Cargo designs have added pockets on the front of the shorts for a more casual, sporty look. Non-pleated madras shorts are also popular and an easy style for the summer.
Pleated vs. Non-Pleated
Consumers choosing between the two most distinct styles of shorts are basing their decision on several factors. One is fit, one is style, and one is brand. Some brands make shorts specific to a sport, such as golfing, and they are available in one particular style. Consumers should opt for the style of shorts they feel are the most flattering and most comfortable for their body type and weight.
| | |
| --- | --- |
| Pleated Shorts | Non-Pleated Shorts |
| Looser | Body hugging |
| Neater, cleaner lines when men sit down | May be uncomfortable when sitting for men with extra weight |
| May bunch when worn by thin men | Sometimes limits movement if shorts fit too tightly |
| More forgiving | Slim silhouette |
| Recommended for heavier and athletic men | Recommended for slim men |
| Best for shorter men | Best for tall men |
| Always fashionable | May go out of style |
| Good for casual or dressy occasions as well as sports like golf | Good for golf and dressy occasions |
Consumers should select the right shorts for their bodies. While pleated shorts are a good option for casual wear, non-pleated styles sometimes look neater for dressy occasions. However, linen or other dressier materials make any style of shorts look a bit classier and when paired with the right shirt, work well for any occasion.
How to Buy Shorts on eBay
If you are looking for the right pair of shorts, find great deals on pleated and non-pleated styles when you shop for summer clothing on eBay. Key in your favourite brand or the style you want to look for by using eBay's user-friendly search box, such as "Polo Ralph Lauren pleated shorts", or "flat front shorts". Purchase shorts new or used from a reputable seller.
Make sure the seller is an authorised merchant who is a Top-rated seller on eBay, and check the seller's feedback before you buy to ensure that he or she is highly rated. If the seller is offering more than one pair of shorts, see if he or she is willing to bundle several pairs for you to reduce the shipping cost.
Conclusion
Everyone wants to look their best in their clothes, and for buyers who want to find the right shorts to flatter their bodies, one of the main decisions that has to be made is which style to purchase. Since most men's shorts are offered in either pleated or non-pleated designs, consumers are able to choose which style fits their body type the best and which look they are most interested in.
While both types of shorts offer benefits to buyers, such as the ability to look casual or dressy, the final decision hinges on the fit. Pleated shorts offer a looser, more forgiving fit, while non-pleated shorts are tighter and more body-conscious. Men should select the style they desire based on their own choice, body type, brand preference, and budget. Both styles offer a wide range of choices when it comes to colour.
Pleated Shorts|Non-Pleated Shorts|Tommy Hilfiger Shorts|Nike Golf Shorts|Polo Ralph Lauren Shorts